2/8/2011
Michigan Appeals Court: Anonymous Tip Justifies Traffic Stop
Michigan appeals court upholds a traffic stop based on a woman in a pickup pointing at a car.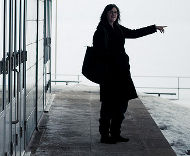 Anonymous informants may direct police to pull over any motorist regardless of whether the other driver has committed any traffic offenses under a ruling handed down by the Michigan Court of Appeals last week. The state's second highest court reversed the finding of a circuit court that had insisted on police officers having probable cause before initiating a traffic stop.

The court considered a March 17, 2008 incident in which Michigan State Trooper Christopher Bommarito was on patrol in the city of Southgate. As Bommarito was heading out of a parking lot, a woman behind the wheel of a red pickup truck pointed at a nearby car and mouthed the phrase "almost hit me." Bommarito immediately activated his siren and entered into hot pursuit. He had no other information aside from the point when he pulled over Shaun David Barbarich who was later arrested for drunk driving.

A district court upheld this arrest, but on appeal a circuit court judge saw it as a violation of the Fourth Amendment protection against unreasonable searches and seizures. The court of appeals initially refused to hear the case, until a state supreme court remand forced a review. The three-judge appellate panel began by noting the diminished constitutional protection afforded to Michigan drivers.

"Certainly, the courts of this state have already recognized, albeit not in cases involving citizen tips, that fewer foundational facts are necessary to justify a stop of a moving vehicle, than would be required with regard to a home or with regard to both a stop and search of that same vehicle," Judge Michael J. Kelly wrote. "The woman's action of pointing to the vehicle in front of her was sufficient to accurately identify defendant's vehicle and provided precise and verifiable information to the officer, which also strongly suggests that the information was reliable... In addition, her statement, 'Almost hit me,' is sufficient to support an inference that an actual traffic violation occurred. While it is true that the statement could be consistent with legal behavior, it is also enough to create an inference that defendant had been driving erratically in contravention of MCL 257.626 (reckless driving, a misdemeanor)."

The appeals court also noted that since the stop happened on St. Patrick's day and the defendant was leaving a bar, the officer's suspicions were strengthened.

"Had the officer waited to personally observe defendant engage in dangerous and erratic driving, his suspicion would have surpassed a reasonable articulable suspicion and become a probable cause to seize defendant and issue an appropriate citation," Judge Kelly concluded. "Thus, police would lose the intermediate step of investigatory stops based on reasonable suspicion. Here, sufficient indicia of reliability supported the citizen's tip and Bommarito was justified in conducting the investigatory stop... The circuit court erred by concluding otherwise."

A copy of the decision is available in a 40k PDF file at the source link below.