7/11/2012
Federal Judge Overrules DC Car Seizure
US District Court rules that Washington, DC cannot confiscate cars during traffic stops without providing its owner a fair hearing.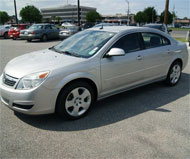 A federal judge ruled on Friday that the District of Columbia had no business taking a man's car without a hearing after a jury found him not guilty of any crime. DC Metropolitan Police Department Officer Jeremy Bank claimed that Frederick Simms, 22, made a right turn on Martin Luther King Avenue in Southeast Washington where a small sign stated such turns could not be made between 7am and 7pm.

During the stop for this alleged infraction, Officer Bank claimed he smelled marijuana. He ordered Simms out of the 2007 Saturn Aura XE and in the course of a search he found a 9mm firearm. DC does not recognize any constitutional right to bear arms, so Simms was arrested and his Saturn seized. Police estimated the vehicle was worth $12,775 at the time. No drugs were found.

On December 7, 2011, Simms went to court to defend himself with only the support of the DC public defender. After a jury acquitted him of all charges, he went immediately to the impound lot to retrieve his automobile. He was told he would have to pay $1200 not to get his car, but to request a hearing to challenge DC's initial decision to take his car -- an amount later reduced to $800.

"I cannot afford to pay $800 to try to get my car back. All of the money I make from my wages ($12 an hour at AAA Storage, in Sterling, Virginia) goes to transportation, rent, daycare, utilities, groceries, car insurance, and the $360 a month I pay on the car loan to Andrews Federal Credit Union for a car I can't even use," Simms told the court in a written declaration.

Simms filed a federal lawsuit to get his car back on May 1, 2012. The District did not commence forfeiture proceedings on June 1, estimating they would not be completed until June 2013. DC prosecutors told the court that Simms should just take the bus to work. The US District Court for the District of Columbia was not impressed with this argument.

"In the rush of a traffic stop, it may be particularly difficult for a police officer to accurately assess whether a vehicle owner knew about any firearms or other contraband concealed in the vehicle," US District Judge Emmet G. Sullivan wrote. "Under the District's current forfeiture scheme, however, innocent owners are given no opportunity to test the probable validity of the District's continued impoundment of their vehicles after the seizure and pending forfeiture proceedings."

The court found that an innocent owner would not be fully compensated for his loss even if he succeeded at a forfeiture hearing a year or more after the car's seizure. The court ruled this was an irreparable harm and that Simms was likely to win a Fifth Amendment challenge to the constitutionality of DC's seizure process.

"The Due Process Clause requires that a vehicle owner whose vehicle has been
seized, and is not being held as evidence, be given a prompt post-seizure opportunity to test the validity of the initial seizure and of the District's continuing retention during the pendency of forfeiture proceedings," Judge Sullivan ruled.

Sullivan ordered the Saturn be immediately returned to Simms upon his posting a $1000 bond pending the outcome of the forfeiture proceeding.

A copy of the ruling is available in a 200k PDF file at the source link below.