9/11/2012
Ohio: Dismissed Traffic Ticket Can Still Be Prosecuted
Federal judge rules the underlying offense of a dismissed traffic citation can still be used against a defendant in a separate case.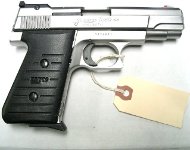 A dismissed traffic ticket does not go away. The US District Court for the Northern District of Ohio ruled Thursday that the trial of Timothy Wilkins should proceed, even though the evidence against him came from a traffic stop case that had been dismissed by the Cleveland Municipal Court. As a result, Wilkins was found guilty Monday and will be sentenced on November 19.

Just after midnight on April 30, 2012, Wilkins had been riding in the car driven by Lincoln Studgions, his cousin. Cleveland Police Officers Steven Schmitz and Vasile Nan were on patrol, looking to issue citations. They insist Studgions ran the stop sign at the intersection of East 114th Street and Clarebird Avenue. Studgions pulled over as instructed as the officers prepared a ticket.

In the course of investigating a suspicious styrofoam cup in the car, the officers searched and found a Bryco Arms .380 caliber pistol concealed under the front passenger seat. Wilkins admitted it was his. Studgions and Wilkins were both placed under arrest.

On May 29, the Cleveland Municipal Court dismissed the charges against Studgions because Officer Schmitz was moving that day and did not show up in court. Schmitz incorrectly assumed the case would be just be continued.

"The court trusts, going forward, that Officer Schmitz will be more conscientious in fulfilling his official duties in appearing for scheduled court dates," US District Court Judge Sara Lioi admonished on Thursday.

Wilkins' attorney, public defender Jacqueline A. Johnson, argued the government failed to meet its burden of proof since it could not show the officers had probable cause to search the car without establishing a traffic violation had occurred, and Studgions insisted he had stopped. Johnson asked the Judge Lioi to suppress the evidence, but she refused.

"The court will consider this to be, in part, an argument that issue preclusion, or collateral estoppel, attaches to the dismissal, precluding further consideration in this court of whether the officers had probable cause to stop Studgions for what they observed as traffic violations," Judge Lioi ruled. "This is incorrect. Among other things, an issue must be 'actually litigated and determined' in a prior case for issue preclusion to attach going forward."

The officers testified at a suppression hearing that they saw the vehicle in question run a stop sign, and Lioi found the testimony credible. As a result, the court found probable cause for the stop and insisted the trial proceed.

A copy of the order on the suppression motion is available in a 65k PDF file at the source link below.