1/28/2013
Another Speed Camera Company Sues a Competitor
Speed camera maker Sensys sues competitor Brekford, claiming company is owed $260,000.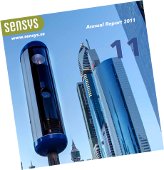 A Swedish speed camera firm is suing Maryland-based photo enforcement company Brekford claiming it has been ripped off. In 2011, Sensys cut a deal to sell automated ticketing machines and services to Brekford. According to the complaint filed with a federal district court in Florida, Brekford failed to provide services that were valued at $260,000 as required under a contractual arrangement.

When trying to convince local city councils to sign on to its automated ticketing services, Sensys, which is based in Jonkoping, Sweden, brands itself "Sensys America" to give the impression that the firm is based in Florida. The company's business kicked off its arrangement with Brekford in Europe.

"Mr. Brechin, the chief executive officer of Brekford, first met representatives of Sensys in the city of Amsterdam in the Netherlands," Brekford attorney W.L. Kirk wrote in a court filing.

That meeting set the stage for a deal struck on November 3, 2011 in which Brekford purchased 30 speed cameras at a cost of $42,000 each. The first $1 million of the total price was paid in cash, while the remaining $260,000 was to be paid through an exchange of services. Brekford agreed to use its access to the National Law Enforcement Telecommunications System (NLETS) to look up driving records of American motorists at a rate of between 59 and 95 cents per lookup on behalf of Sensys. At the maximum rate of lookups, the deal would have lasted for seventeen months, allowing Sensys to issue 374,000 tickets in Tennessee and elsewhere around the United States.

Brekford is currently trying to get out from under the lawsuit by claiming no court based in Florida -- federal or state -- has any jurisdiction because Brekford does not at present do business in the Sunshine State.

"Under these circumstances and the authorities cited above, it would be a violation of due process for the court to exercise personal jurisdiction over Brekford," Kirk wrote.

Brekford is, however, in the process of finalizing a deal to set up an automated ticketing contract in Riviera Beach. In the company's written proposal to convince city council members to approve the contract, Brekford boasted of the company's deep connections to the state.

"Brekford's Florida staff has extensive knowledge of Florida law enforcement and Governor's Office of Highway Safety communities," the proposal claimed. "To make this a reality, we have employed two most capable managers (one located minutes away in South Florida) to oversee the day-to-day operation of the program... In addition to our corporate offices in Hanover, Maryland, Brekford has two Florida locations (Palm Beach County and Pinellas County). These locations assure prompt response from in state employees."

Sensys insists this is evidence the court has jurisdiction in the matter and that it should go forward to trial.

Update: Sensys in Sweden denies ties to Sensys in America. View the response.