3/20/2013
Pennsylvania: Eight Charged In Toll Road Scandal
Officials, politicians and contractors charged in bribery scandal at Pennsylvania toll road.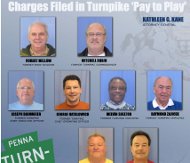 Top officials at a toll road in Pennsylvania have been charged with shaking down motorists and pocketing the cash. Attorney General Kathleen G. Kane last week filed charges against a former state senator, two contractors and five Pennsylvania Turnpike employees, including the CEO, chief financial officer and a commissioner.

"The former state officials charged wielded extraordinary power which they wrongfully used for self-enrichment and for their own political purposes, rather than for the good of the commonwealth and its citizens," Kane said in announcing the charges. "Their criminal acts resulted in the misdirection, misuse, and theft of millions of dollars of public monies."

According to the indictment, vendors interested in landing lucrative, multi-million dollar contracts with the toll road were expected to provide campaign contributions, gifts and other benefits to turnpike officials in a massive pay-to-play scheme.

Former state Senator Robert Mellow, the Democratic floor leader, allegedly used the turnpike to provide contracts for his key campaign supporters, using the toll road as a tool for increasing campaign donations. The procurement system was so politicized that a "60/40" rule was put in place dividing awards 60 percent to the majority party and 40 percent to the minority.

"The grand jury identified firms that received preferential treatment, firms that felt pressured to make significant political campaign contributions, and firms that provided turnpike and elected officials with gifts and entertainment," Kane explained. "Often these gifts and entertainment expenses were not reported by the state officials as required by law."

One engineering firm paid $100,000 in donations to politicians connected to the turnpike and was rewarded with $9 million in contracts. Another company turned $20,000 in donations into $37.3 million in contracts. A third firm parlayed $160,000 in donations and $4000 in travel for turnpike COO George Hatalowich into $59.1 million in toll road business. The firm Orth-Rodgers and Associates received a phone call the day after a turnpike meeting discussed its contract.

"There is a new regime in place at the turnpike that can do good things for you and companies like yours," an advisor to the turnpike said on the phone. "We're holding a fundraiser and these guys want to help you out. Do you think you guys can donate $12,000?"

The firm cut a check for $5000, though it worried about appearances. Many of the projects approved by turnpike officials included "make work" and rampant over-billing. Consultants frequently billed the turnpike for work that was never performed.

"The pay-to-play culture also permeated entities seeking to provide professional services to the turnpike, such as banking and title insurance," Kane said.

One Pennsylvania bank took Senator Mellow to Yankee games, provided concert tickets, hosted a campaign event and paid for dinners worth $10,500. In return, the bank received $2.4 million in work from the toll road.

The charges filed range from bid rigging, bribery and corruption to perjury and conspiracy.