6/25/2013
Virginia: Transurban Ditches Old Toll Road, New One Struggles
Australian toll road company dumps an old toll road in Virginia as a newly opened route struggles.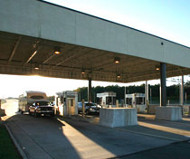 Virginia's transportation policy has been dominated by tolling. Both Governor Bob McDonnell (R) and his predecessor Tim Kaine (D) saw the use of public-private partnerships as a means of raising revenue for the state while claiming not to have raised taxes. The tolling push continues with the construction of tolling infrastructure on existing lanes of Interstate 95, even though similar projects in the state are struggling to stay afloat.

On June 14, the tolling firm Transurban announced it had given up on running Virginia's Pocahontas Parkway and would be surrendering the toll road to lenders by October. The Australian company wrote off the entire road as a $138 million loss last June.

"There will be no cash impact on a transfer of Pocahontas 895 to the lenders," the company explained in a statement to the Australian Securities Exchange. "Pocahontas 895 is carried at no value on the Transurban Group balance sheet."

The Pocahontas Parkway is a 9-mile toll road that connects Interstate 95 and Interstate 295 southeast of Richmond. The road opened in 2002 with grand promises of economic development, but the traffic and revenue forecasts proved to be wildly optimistic. Facing the possibility of default on the money borrowed for construction, the Pocahontas Parkway Association -- a non-profit set up by the Virginia Department of Transportation -- sold Transurban a 99-year lease of the road in 2006. The American Road and Transportation Builders Association hailed that restructuring of the project as one of the year's "best public-private venture transportation projects." The project collapsed.

"As previously announced, the issues facing Pocahontas 895 are asset specific and do not reflect any broader concerns across the rest of the Transurban portfolio," the company told investors. "All of Transurban's other operating assets remain robust with strong expectations for continued growth and free cash generation."

Transurban's flagship American tolling project, the 495 Express Lanes, recently opened in Virginia just outside the nation's capital, but drivers have not embraced the road. In its material for investors, Transurban described the 495 HOT lanes under the headline: "Toll price increasing: Major driver of revenue growth." Despite the hike in cost to use the lanes from a maximum of $3.70 to $6.35, revenue remains far below the level projected when the project was pitched to lawmakers. At 20,200 trips per day, traffic is one-third of estimates.