11/14/2013
Iowa: Court Rules Against Cops For Pulling Over New Cars
Iowa Court of Appeals rules that police may not pull over an automobile merely because it has a temporary registration tag.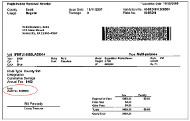 Judges around the country disagree on whether police should have the authority to pull over a motorist driving a new car when it has a legally displayed, temporary license tag. California's highest court ruled in 2008 that police could not subject the 2.4 million drivers issued temporary permits every year to random traffic stops (view ruling). North Dakota's Supreme Court came to the opposite conclusion the same year (view decision). The Iowa Court of Appeals adopted California's view last week.

On September 12, 2012, police officers in Des Moines saw the Cadllac DeVille owned by Joshua Carmody driving toward them without a front license plate. They decided to follow. While behind the Cadillac, the officers noted a temporary license plate affixed to the back window, as required by law. The officers decided to pull Carmody over anyway.

While stopped, the smell of marijuana led to an arrest for driving while high, but the court considered only the legal question of whether the police should have stopped him in the first place.

"In order to justify the stop of Carmody's car, the officers needed to have, at a minimum, reasonable suspicion to believe criminal activity had occurred or was occurring," Judge Richard H. Doyle wrote for the three-judge appellate panel.

Normally, driving in Iowa without a license plate would be sufficient cause for a stop, but state law allows vehicles to travel on the highway for forty-five days as long as there is a card in the rear of the vehicle with the words "registration applied for" along with a registration number. At trial, one of the officers explained that it was "not real unusual" to see the temporary registration cards, and he did see a card in Carmody's window, though he was unable to read the lettering. The court found that this gave the officer no reason to believe any crime had been committed.

"The officers' excuse for pulling Carmody over was merely that he could not make out the markings on the temporary tag, a regular occurrence in his experience," Judge Doyle concluded. "If the excuse made here, without more, met constitutional muster, officers would effectively have free reign to pull over any driver who is in full compliance with Iowa Code section 321.25. We conclude the excuse does not meet constitutional muster because our jurisprudence does not recognize an unbridled cart blanche authority on the part of officers to make random investigatory traffic stops."

Finding the stop a Fourth Amendment violation, the court ordered the evidence obtained during the traffic stop suppressed. A copy of the ruling is available in a 100k PDF file at the source link below.