12/11/2013
California County Says No To Tolling
Orange County, California rejects toll road option in light of overwhelming public opposition.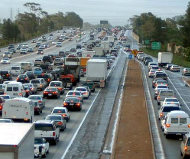 California's busiest stretch of freeway will not be tolled. On Monday, the Orange County Transportation Authority (OCTA) agreed with local politicians and members of the public who expressed opposition to the proposed conversion of existing Interstate 405 lanes into toll lanes.

Last year, mayors from the affected cities of Costa Mesa, Fountain Valley, Huntington Beach, Los Alamitos, Seal Beach and Westminster wrote to OCTA urging the addition of a pair of general purpose lanes instead of pay lanes. Since then, several tolling projects in the region have proved to be financial flops (view report). The agency responded to these developments by adopting "option one" which adds one new freeway lane in each direction from Euclid Street to I-605 at a cost of $1.3 billion.

"The board's vote means that high-occupancy toll (HOT) lanes will not be a part of the I-405 project, which is being funded through Measure M, the half-cent sales tax for transportation improvements," the agency explained in a statement.

In 2006, county voters approved $6.6 billion worth of projects with the ballot proposition. The I-405 expansion consumes one-fifth of the budget since the road is gridlocked from carrying 370,000 cars per day. Most of the funds in the project actually go to adding freeway capacity, expanding secondary roads and synchronizing traffic signals. Twenty-five percent of the cash is set aside for transit projects. The mayors of the six affected cities wrote to OCTA last month to re-iterate that tolling is inconsistent with the ballot proposition.

"Constructing toll lanes is a breach of trust with Orange County residents who voluntarily voted for an additional half-cent sales tax increase under Renewed Measure M with the promise that one additional general purpose lane would be added to the I-405 freeway," the mayors wrote. "Measure M would never have been supported if voters were made aware that a toll lane would replace the current free HOV lane."

OCTA is under pressure from the US Department of Transportation to deal with "degradation" of the high-occupancy vehicle (HOV) lanes that slow to a crawl during rush hour. Officials push "managed lanes" as a solution to the problem. In comments to OCTA, residents were overwhelmingly opposed to the idea.

"Once again, the bureaucrats on the East Coast are trying to tell the West Coast what's best for us," wrote Fountain Valley resident Jim Rueff. "This is, in itself, insulting and demeaning... Instead of saddling us with unwanted toll lanes to placate Washington bureaucrats, I suggest that we simply eliminate the HOV lanes, add two general purpose lanes in each direction, and everyone is happy."

The California Department of Transportation, Caltrans, has final approval of the project recommendation.