6/30/2014
ATS Sues Xerox Over Document Production
Xerox wants ATS to pay $60,750 for copies of emails related to its red light camera program. ATS sues over the high fee.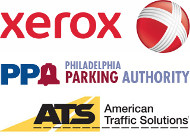 The red light camera program in Philadelphia, Pennsylvania has spawned multiple lawsuits in state and federal courts. The former vendor is suing the city, the city is suing the former vendor and the former vendor is suing the new vendor. In the latest suit, ousted red light camera provider American Traffic Solutions (ATS) is demanding that the new provider, Xerox, hand over documents related to its communications with the city. The copier giant says it will only hand over the records if ATS pays $60,750 up front to cover the cost of retrieving the data. On June 20, ATS petitioned the US District Court for the District of Maryland to intervene.

ATS wants emails and documents sent between Xerox and the Philadelphia Parking Authority as part of a lawsuit over the company losing the contract to run the red light camera program. The city is suing ATS to order the company to hand over the underground wiring used to hook up the cameras so that Xerox can use it. ATS refuses to do so, claiming the wiring and conduit belongs to ATS.

ATS is fighting an uphill battle. A Pennsylvania state court last month upheld the city's right to switch vendor (view ruling), but the often acrimonious dispute continues in federal court. When ATS served a subpoena for the documents in last month, Xerox Vice President Wes E. Wadle questioned the sincerity of ATS in handing the legal paperwork to Customer Service Specialist Lauren Rupkey in the Baltimore office of Corporation Service Company, Xerox's registered agent, rather than sending it to the general counsel's office at Xerox directly.

"Your statement about our sincerity in serving the subpoena is baseless and ridiculous," ATS attorney Gerald E. Burns responded in a May 13 email. "If anything, it is your 'sincerity' that is in question."

After a week, Xerox said it would provide the documents as soon as it receives a check for $60,750 from ATS.

"As we discussed yesterday, Xerox will not begin collecting electronic data until ATS agrees to pay for the costs incurred," Xerox attorney John C. Grugan wrote in a May 21 email. "I understand that ATS is taking the position that it is not required to do so, but I believe a fair reading of the case law supports Xerox's position."

ATS insists that, at a minimum, that Xerox should turn over the paper documents in the copier company's possession, which Xerox has the capability of producing and reproducing. Xerox says the documents are proprietary or covered by attorney-client privilege and the ATS request overly broad.