7/7/2014
Ohio, Federal Courts Reject Black Pastors Suit Against Speed Cameras
Lawsuit by organization of black pastors against Cleveland, Ohio traffic cameras fails in state and federal court.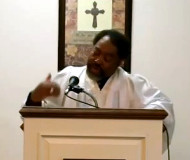 An attempt by black pastors to shut down the speed camera programs in Cleveland and East Cleveland, Ohio was rejected by a state court on Thursday. In March, Pastor A.J. Thompson, head of the TUA Help Save East Cleveland Project, filed suit in the Cuyahoga County Court of Common Pleas on behalf of the local civil rights organizations Peace in the Hood, Black on Black Crime and Oppressed Peoples Nation. The groups cited the appellate ruling from January declaring Cleveland's photo ticketing appeals process illegal as a reason to immediately shut down the Cleveland-area ticketing operations (view opinion, 120k PDF).

"Because immediate and irreparable injury, loss or damage will result to the applicant before the adverse party or his attorney can be heard in opposition, plaintiffs respectfully request that this injunction be granted by this court," the group wrote in its motion. "Defendants' automated camera civil traffic enforcement systems and devices are saturated in predominately black and poor minorities in Cleveland, and East Cleveland, causing further oppression and loss of police manpower."

Speed camera providers American Traffic Solutions (ATS) and Xerox both moved to transfer the case to federal court, increasing the cost and complexity of the case. Thompson argued the matter pro se, without an attorney. Under the federal rules, a non-lawyer can only plead his own personal case; a lawyer must represent an organization.

In May, US District Judge Christopher A. Boyko dismissed the federal case without prejudice and remanded it back to state court. Thompson stated no claim that could be resolved in a federal court since he had not received a speed camera ticket. In her final decision, Cuyahoga County Judge Cassandra Collier-Williams followed the federal lead.

"As a preliminary matter, this court notes that plaintiff in this case is named 'TUA Help Save East Cleveland Project (aka) Pastor A.J. Thompson,'" the judge wrote. "No attorney has entered an appearance as counsel for the plaintiff. All pleadings and motions filed by plaintiff have been filed and signed by Pastor A.J. Thompson. Pursuant to Ohio Revised Code Section 4705.01, Pastor A.J. Thompson cannot represent plaintiff, as he has not been admitted to the bar by order of the Supreme Court in compliance with it prescribed and published rules."

Judge Collier-Williams rejected as improperly filed five ticket recipients who attempted to join the suit.

"The decision on these individuals' motions does not preclude these individuals from bringing a separate cause of action for any injury which her or she personally suffered," she ruled.

A copy of the decision is available in a 160k PDF file at the source link below.