7/24/2014
Canada: Lawmakers Consider Seizing Cars Over Guns
Ontario, Canada Provincial Parliament considers seizing cars from people who drive to the gun range without a transport permit.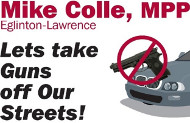 Anti-gun activists in Ontario, Canada are looking to confiscate cars illegally carrying handguns. Liberal Party Member of Provincial Parliament Mike Colle proposed legislation yesterday to add firearms possession to the "anti stunt racing" provisions of the traffic code that allow vehicles to be confiscated on the word of an officer who says they were speeding.

Within 24 hours of passage of the last extension of seizure powers in 2007, Ontario police raised up to $470,000 in ticketing and towing fees. Colle's proposal would impose a much higher fine of up to $10,000 on anyone convicted for the first time of illegally possessing a handgun in an automobile. Canada does not recognize the right to keep and bear arms or the right to due process.

"If a police officer believes on reasonable and probable grounds that a person has committed an offense under subsection (1), the officer shall request that the person surrender his or her driver's license; and detain the motor vehicle until it is impounded," Colle's proposed bill states. "There is no appeal from, or right to be heard before, a vehicle detention, driver's license suspension or vehicle impoundment."

Only about a dozen judges and high-level politicians have been issued "authorization to carry, type 3" permits that allow the carrying of a handgun, concealed or openly, for self-defense. Handguns that are legally owned may only be transported from one place to another with an "authorization to transport" permit from Ontario's chief firearms officer. Traveling to a shooting club with a legally owned handgun without such a permit is an offense in Ontario.

"Our present laws are weak and ineffective when it comes to dealing with people caught driving with illegal handguns in their motor vehicles," Colle said in a statement. "It is almost impossible for our police officers to get any kind of conviction under the Federal Criminal Code for anyone found to have an unlawful handgun in their vehicle."

If someone convicted under the bill is driving a car that belongs to someone else, the vehicle owner cannot get his car back or recover losses without filing a lawsuit against the driver.

A copy of the legislation is available in a 250k PDF file at the source link below.