8/26/2014
Kentucky: Lawsuit Restored Against Cop Caught Lying About Traffic Stop
Video catches Kentucky State Trooper harassing motorist. US Court of Appeals rules cop can be sued for false arrest.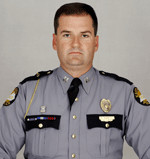 Videotape proved essential for Freddie Gregory, a motorist falsely accused of traffic violations by a high-ranking Kentucky State Police trooper. The US Court of Appeals on Friday allowed Gregory to pursue false arrest charges against Lieutenant Phillip Burnett.

Since February 2009, Lieutenant Burnett had stopped Gregory on three occasions under what the motorist considered to be bogus circumstances. The 53-year-old decided to install a video camera to document the harassment. The device was ready on April 4, 2009, when Gregory decided to take his granddaughter to lunch in his pickup truck. As he was leaving his driveway, Gregory spotted Lieutenant Burnett about twenty yards away.

Gregory stopped his car and removed his seatbelt to reach the on switch for his camera. Lieutenant Burnett pulled alongside the pickup truck and demanded to see Gregory's license. After pointing out he was on his own property, Gregory produced his license and complained about the traffic stops.

GREGORY: I'll tell you this: You're gonna quit this harassment.
BURNETT: Do what?
GREGORY: You're gonna quit this harassing me, because I ain't done nothing illegal.
BURNETT: Well, let's see here. Your window is tinted. And you're getting ready to get out here, and you didn't have your seat belt on. So I can stop you now. Okay?
GREGORY: Where you see my windows tinted at? Where you see my windows tinted at?
BURNETT: Look right here. Look right here. You can't even see through that.
GREGORY: Well, I can't help it that you got them dark glasses on and can't see nothing.
BURNETT: I'll tell you what. I'm gonna take you to jail for menacing.

Gregory was searched, given a seatbelt ticket and arrested for menacing and disorderly conduct. Gregory spent three hours in jail.

After seeing video of the incident, Bell County Prosecutor Neil Ward dropped the charges. Although the US District Court for the Eastern District of Kentucky rejected Gregory's malicious prosecution lawsuit against Lieutenant Burnett, a three-judge appellate panel reinstated it.

"A review of the tape shows that Gregory did nothing that would legitimately constitute either disorderly conduct or menacing," the panel wrote in its decision. "Gregory had a protected right to request that Burnett stop harassing him, and a jury could conclude both that Burnett's conduct in arresting Gregory was in response to Gregory's exercising that right and that the arrest would deter a person of ordinary firmness from exercising that right."

The appellate court cleared the way for Gregory's claims to be resolved by a jury at trial. Instead of sanctioning Lieutenant Burnett for his conduct, Kentucky State Police promoted him to captain in 2012 and put him in command of all troopers in Bell, Harlan and Knox counties last year.

A copy of the decision is available in a 300k PDF file at the source link below.