1/7/2015
Federal Court: Faulty Sense Of Smell Justifies Lengthy Detention
False arrest suit dismissed against Wyoming Highway Patrol officers who mistook the scent of fresh juniper for raw marijuana.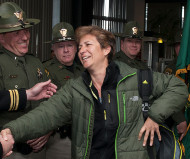 A motorist may be detained for more than an hour if a police officer claims he smells marijuana, even if no illicit substances are ever found. That was the ruling of the US Court of Appeals for the Tenth Circuit, which last week rejected Tito Abbo's false arrest lawsuit against the Wyoming Highway Patrol officers who mistook the scent of juniper for marijuana.

Abbo was upset by his treatment at the hands of Trooper Regina Schulmeister, who patted Abbo down, threw him in handcuffs and locked him in the back of a patrol car for 76 minutes, even though he had done absolutely nothing wrong. Abbo was riding as a passenger in his car when Trooper Schulmeister pulled over Gregory Mercado for allegedly speeding. In the course of the traffic stop, Trooper Schulmeister said she smelled raw marijuana and sage. She called for backup and ordered Abbo out of the car so it could be searched.

Abbo, a trained herbalist, protested, saying the troopers were mistaken and that a drug dog should be brought to the scene to sniff the car. His request was ignored, but after nearly an hour of searching, the closest things to drugs found were tobacco rolling papers and fresh juniper. The court of appeals and district court said the mere assertion that the smell of marijuana may have been present was good enough, and that it does not matter if the source of the smell turned out to be something entirely different.

"We understand the district court's opinion to find that the troopers smelled marijuana in a subjective sense, and not to establish that the troopers smelled what was, in fact, marijuana," Circuit Judge Scott M. Matheson Jr. wrote for the three-judge appellate panel. "Indeed, this court has repeatedly recognized the odor of raw marijuana establishes probable cause for a search. Once probable cause is established, troopers may search an entire vehicle."

Abbo failed to overcome the protection given to law enforcement acting in the line of duty. The court found that the troopers had no reason to believe their actions constituted a constitutional violation.

"For purposes of qualified immunity, we need not definitively resolve whether the officers had probable cause to search Mr. Abbo's car based on these precedents," Judge Matheson wrote. "We need only conclude Mr. Abbo has not demonstrated the law was so clearly established that reasonable officers would have known they were violating Mr. Abbo's rights by searching his car and seizing his person after smelling what they believed to be raw marijuana."

A copy of the decision is available in a 30k PDF file at the source link below.