9/18/2015
Iowa: Federal Judge Upholds 1 MPH Traffic Stop
Federal court gives police authority to stop any motorist for driving 1 MPH over the limit.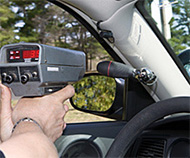 A federal judge on Wednesday told Mark Eugene Fuehrer that he would stand trial after being pulled over for driving an alleged one mile per hour over the speed limit. The stop itself was planned in advance. The Dubuque County, Iowa Sheriff's Office suspected Fuehrer was involved in dealing drugs, so deputies had been tailing his GMC Jimmie. On January 11, 2015, Deputy Sheriff Adam Williams set up a radar trap on Highway 151, after being told that Fuehrer would soon pass.

Deputy Williams insists his radar clocked the GMC at 66 MPH in the 65 MPH zone, so he decided to stop Fuehrer. Just two minutes into the traffic stop, a drug dog was on the scene to sniff the car. It immediately alerted. A federal magistrate judge was asked to decide whether an alleged 1 MPH speeding violation provided probable cause for the traffic stop, particularly since the alleged violation was a pretext.

"It is unlikely Deputy Williams would have stopped defendant if law enforcement did not believe he was transporting drugs," US Magistrate Judge Jon Stuart Scoles wrote. "That is, the government concedes the officers had an ulterior motive in conducting the traffic stop."

Under US Supreme Court precedent, however, the subjective motivation of officers is irrelevant. What matters is whether an actual violation occurred or not. Fuehrer's lawyer argued that the 1 MPH accusation was insufficient because the reading is within the margin of error of the radar device.

"Common knowledge, police knowledge, as well as information provided by the National Highway Safety Administration, tell us that there is a standard deviation on radar devices that is at least plus or minus 1 MPH," attorney Dennis E. McKelvie argued. "The deputy who stopped the defendant for the alleged 1 MPH over violation could not say with any certainty that he had probable cause to believe that the defendant was violating any traffic laws."

Fuehrer's lawyer, however, did not obtain the specifications for the exact model of radar unit used by the deputy, which left the court unpersuaded.

"Could the state prove defendant was speeding beyond a reasonable doubt?" Judge Scoles asked. "Maybe not. But that is not the standard to be employed in determining whether the traffic stop violated the Fourth Amendment. Rather, it is only necessary for the government to show probable cause that defendant was driving in excess of the speed limit. It has done so here."

The court denied the request to suppress the evidence found during the traffic stop. Fuehrer's trial for possession of 28.8 grams of methamphetamine has been set for October 13.

A copy of the decision transcript is available in a 800k PDF file at the source link below.