10/2/2015
Virginia Lawmakers Challenge I-66 Tolling Plan
GOP leaders in Virginia line up to oppose proposal to convert Interstate 66 into a toll road.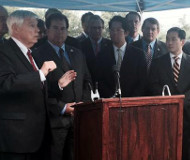 The Republican leadership in Virginia's House of Delegates may throw a wrench into Governor Terry McAuliffe's (D) plan to turn Interstate 66 into a toll road. I-66 is one of the most heavily congested routes leading into Washington, DC, and the House speaker, majority leader and majority whip gathered on a rainy Thursday in Falls Church to speak out against the tolling plan.

"Charging Virginians for the privilege of sitting in traffic without using that money to add new capacity leaves the real problem -- congestion -- completely unsolved," Speaker William J. Howell (R-Stafford) said. "Governor McAuliffe should shelve this proposal and work with the General Assembly, local governments and commuters to create a plan to provide real congestion relief."

The "not in my backyard" policy of local officials in Arlington has blocked all talk of expanding I-66 inside the Capital Beltway. That is why the route has been limited to just two lanes in each direction, with the resulting traffic jams lasting throughout the day. Under the Virginia Department of Transportation proposal, drivers in these jams would be charged a "typical" rate of $9 during the morning commute and $8 on the drive home.

"Putting a $17 fee on one of our major commuter routes without using that money to add capacity is a signal to business that not only is Virginia unserious about fixing traffic problems, but also is willing to use commuters -- their employees -- as an ATM for pet projects," House Republican Caucus Chairman Tim Hugo (R-Fairfax) said.

While the lawmakers sought to turn tolling into a partisan issue on Thursday, the plans to toll I-66 were initiated under the administration of Governor Bob McDonnell (R), who was in turn following in the footsteps of his predecessor, Tim Kaine (D), who initiated the Beltway HOT lane project. The Republican lawmakers objected most strongly to the governor's proposed use of motorist funds for non-motoring purposes.

"Asking commuters from Prince William, Manassas, Fairfax and Loudoun to pay such an outrageous amount for the privilege of sitting in the same unmoving lanes of traffic so Arlington can have nice new bike paths is unconscionable," House Majority Whip Jackson Miller (R-Manassas) said. "Drivers who use both I-66 and the Dulles Toll Road could be stuck with $9000 per year in fees. Governor McAuliffe's plan is a nonstarter."

The governor hopes to begin collecting tolls in the summer or 2017, but Republicans control two-thirds of the House of Delegates and maintain a small majority in the state Senate.