10/16/2015
New Jersey Supreme Court Enhances Warrantless Auto Searches
New Jersey dispenses with warrant requirement for roadside searches because police claim it is too burdensome.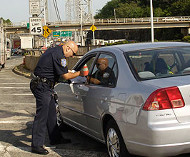 The New Jersey Supreme Court decided last month to overturn precedent and give police greater authority to search automobiles without judicial review. The 5 to 2 decision nullified the constitutional standard that had been adopted just six years earlier in New Jersey v. Pena-Flores, which said that police officers should apply for warrants by calling a judge and that this requirement could only be ignored in extreme circumstances. The court majority reversed itself, calling the prior decision "unsound in principle and unworkable in practice."

"The court expected that its exigent-circumstances test would provide a reliable guide to law enforcement and that telephonic warrants would present an efficient and speedy way of curbing prolonged roadway stops," Justice Barry T. Albin wrote for the majority. "Those expectations have not come to pass... The current approach to roadside searches premised on probable cause -- 'get a warrant' -- places significant burdens on law enforcement."

The majority insisted that waiting for warrants caused delays of up to two hours, which forced law enforcement to coerce motorists into "voluntarily" agreeing to allow a search.

"The heavy reliance on consent searches is of great concern given the historical abuses associated with such searches and the potential for future abuses," Justice Albin wrote.

The majority made its decision in the case of William L. Witt, who had been stopped in Carneys Point Township on December 19, 2012, solely because he did not dip his high beams at 2am when he passed the parked patrol car of Officer Joseph Racite. Witt ended up under arrest for driving under the influence of alcohol (DUI), and a subsequent warrantless search of his car turned up a handgun.

A trial judge found that Officer Racite was entitled to search Witt's vehicle for an open container of alcohol, but not to look for weapons without a warrant, as there were no exigent circumstances. The state Supreme Court decided that the lower court ruling would stand because police were operating under the standard set by the Pena-Flores case. Future roadside searches will not require a warrant.

"Going forward, searches on the roadway based on probable cause arising from unforeseeable and spontaneous circumstances are permissible," Justice Albin concluded. "However, when vehicles are towed and impounded, absent some exigency, a warrant must be secured."

Now only Hawaii, Montana, New Mexico, Utah, Vermont and Washington state maintain the exigent circumstance test. Justice Jaynee LaVecchia blasted the majority for allowing the state to cite a "self created" problem to evade the constitutional requirement to get a warrant, insisting there is no reason it could not establish a telephonic warrant system.

"This is not a proud day in the history of this court," she wrote. "Ironically, the majority takes this step at a time when federal jurisprudence is veering away from any per se categories of assumed exigency. The arc of history may prove embarrassing indeed for my colleagues in the majority."

A copy of the ruling is available in a 600k PDF file at the source link below.