1/13/2016
US Appeals Court Endorses Arrest For A Late Turn Signal
Federal appellate court takes the opportunity to remind police officers that they can arrest people for failing to signal early enough.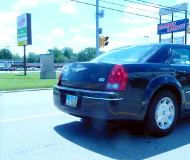 A federal appeals court last week endorsed the arrest of a motorist who waited too long before using his turn signal. A three-judge panel of the Seventh Circuit US Court of Appeals examined the case that began when Officer Brandon Brooks stopped Tracy Williams as he drove home from work on State Road 37 through Noblesville, Indiana on October 5, 2011.

Williams pulled his Chrysler 300 into the left turn lane, but Officer Brooks claims the man failed to use his turn signal until he was already in the turn lane. The incident was not recorded. As often happens with matters that reach the appellate level, the traffic stop soon became more dramatic, but the judges had to decide whether the initial stop itself was justified before turning to those other matters.

The rest of what happened was captured on a dashcam. At the start, Williams irritated Officer Brooks by only partially rolling down his window.

"You're acting like you kind of have an attitude with me right now," Officer Brooks said. "Like I pulled you over for no reason."

Officer Brooks ran the license plate and found everything was in order. He decided to write a warning for the failure to signal, but as he was doing so, Williams got out of his car and began walking toward the gas station near where they were stopped. This odd behavior spooked Officer Brooks, who ordered Williams to return to his vehicle six times.

"Get back in your car now or I will tase you," Officer Brooks finally yelled.

Williams complied. At this point, Officer Brooks decided to run Williams through the field sobriety tests, but a scuffle ensued when Officer Brooks tried to perform a pat-down search. Williams was not subdued until another police officer arrived to help.

"Guys, this is going to be really bad," Williams said. "You're going to put me in handcuffs? For what? This is going to be a really bad video for you guys."

Williams was taken to the station where he blew a 0.0 on the breathalyzer test, so he was instead booked on charges of resisting law enforcement and battery. Ultimately, after the charges were dismissed, Williams decided to sue the officers for false arrest and use of excessive force. The three-judge panel was not interested in his argument, since his arrest for signaling late was justified.

"Officer Brooks's testimony that he saw Williams change lanes without signaling establishes probable cause for the traffic stop, and Officer Brooks could lawfully arrest Williams for this traffic infraction," Judge Joel Martin Flaum wrote. "...He could arrest Williams -- for the traffic infraction or for resisting law enforcement -- without violating the Fourth Amendment."

In looking at the videotape, the judges saw the amount of force used as reasonable, disagreeing with a state court judge who found the handcuffing inappropriate.

A copy of the ruling is available in a 150k PDF file at the source link below.