5/20/2016
US DOT Report: School Bus Drivers Remain Greatest Danger To Kids
In ten years, only four children nationwide have ever been killed by motorists passing a school.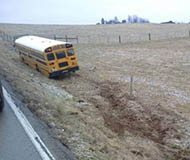 Motorists illegally passing school buses are not harming school children in large numbers. Figures released last week by the US Department of Transportation confirm once again that school bus drivers are three times more likely to run over a child than cars traveling near the school bus.

The new report covers the year 2014, in which a total of 7 pedestrians nationwide were struck and killed by automobiles, SUVs and trucks near a school bus compared to 21 that were run over by the school bus itself. Only half of these pedestrians were children. Although an entire industry has sprung up around ticketing motorists with school bus cameras for passing buses, school transportation crashes of all types are rare, accounting for 0.4 percent of fatalities nationwide. In 71 percent of these fatalities, the victims were other motorists, not children.

The data reflect long-term trends that have remained stable over more than a decade.

"From 2005 to 2014, there were 111 school-age pedestrians 18 and younger who died in school transportation-related crashes," the DOT report explains. "...almost two-thirds (64 percent) of the school-age pedestrians fatally injured in crashes were struck by school buses or vehicles functioning as school buses, while 36 percent were struck by vehicles of other body types."

In this same ten-year period, only 4 school-age children were listed as being killed by an automobile, SUV or truck that was passing or overtaking a school bus or other vehicle. This figure is low considering over 26 million children ride buses to public schools each school day. A much greater threat, according to National Center for Catastrophic Sport Injury Research figures, are the 232 fatal accidents that happened to high school students playing sports (a figure that does not include children in kindergarten through eighth grade). Likewise, in the past ten years, 136 school-age children have been killed by lightning, according to the National Weather Service.

A copy of the report is available in a 400k PDF file at the source link below.