5/31/2016
Illinois: Six-Figure Fines Levied In Redflex Corruption Trial
Chicago, Illinois official must forfeit $680,107 in bribes received from Redflex Traffic Systems. Bagman fined $98,837.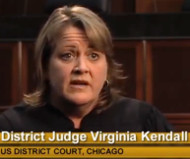 US District Judge Virginia M. Kendall wants the public to know that red light camera crime should not pay. On Friday, she ordered former Chicago, Illinois transportation official John Bills to forfeit to the federal government the $680,107 he received in the form of gifts and cash from Redflex Traffic Systems. A federal jury in January found Bills guilty of taking bribes in return for his assistance in landing the largest red light camera program of its type for the Australian company.

Bills had attempted to get out of paying back the money he received in the form of gifts and cash from Redflex by arguing that the jury's decision was improper, based on evidence provided by Redflex co-conspirators Karen Finley, Aaron Rosenberg and Martin O'Malley, who are admitted liars. This argument centered on an excerpt from an article in the Chicago Tribune newspaper describing the Bills trial.

"Jurors didn't like that the prosecutors relied so heavily on three key witnesses who had won deals... but emails, bank records, and other witnesses buttressed their testimony," the article stated.

Judge Kendall did not buy the interpretation of the article that Bills had posed.

"Despite Bills's arguments to the contrary, this quotation does not indicate that the jury did not rely on the testimony provided by the three witnesses; rather, it shows that the testimony, when supplemented by other evidence, was sufficient for the jury to convict him," the judge wrote in her order. "As such, Bills's contention in no way undermines the government's reliance on the witnesses' testimony regarding Bills's bribery offenses and forfeiture amount."

Judge Kendall also rejected the attempt to spread the $680,107 fine among the co-conspirators, arguing that the forfeiture would be entered according to the amount of personal benefit each individual received. Redflex bagman Martin O'Malley entered a guilty plea last December. He was fined $98,837. Finley's plea bargain allows her to get away without a forfeiture order against her.

Meanwhile, Finley, the former top Redflex executive based in the United States, will not find out how long she will spend behind bars for her role in the Chicago bribery scandal until September 16. Sentencing was delayed once again so that Judge Kendall would make her decision after Ohio District Court Judge George Smith sentences Finley for her role in bribing Cleveland officials. Judge Smith is scheduled to make that decision on August 10.