9/1/2016
Study: Recessions Are Good For Traffic Safety
Brookings study finds that recessions improve safety by keeping the worst drivers off of the roads.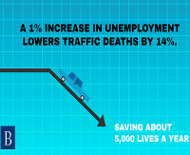 Traffic fatalities have fallen steadily since the 1970s. Politicians often claim credit for this ongoing improvement in safety by citing various government programs were the key to success. An analysis by researchers from the Brookings Institution and the University of Houston to be published in the Journal of Risk and Uncertainty finds the economic impact of recessions is what has had the greatest influence on accident rates.

Economists Clifford Winston and Vikram Maheshri noted that the decline in the fatal accident rate during a recession is far greater than can be explained from the decline in the number of people hitting the roads when times are tough. In 2009, for instance, the number of vehicle miles traveled (VMT) dropped one percent, but fatalities plunged nine percent.

The researchers used data from Ohio motorists who had transponders installed in their automobiles by their insurance company, State Farm, in return for a discount. The data covered up to 9955 drivers between 2009 and 2013. Records included the precise odometer reading of each vehicle, the owner's accident history and various socioeconomic factors. The dataset did not include any personally identifiable information, but it did offer a more specific look at how recessions affected different types of drivers.

"We find that changes in local unemployment do not affect the average VMT per driver across all drivers, but they do affect the composition of drivers on the road," Winston and Maheshri wrote. "In particular, we find that the drivers in our sample who are likely to pose the greatest risks to safety, as indicated by several observable characteristics such as the driver's age and accident history, reduce their VMT in response to increasing unemployment."

The researchers hypothesized that "risky" drivers took fewer chances during recessions, deciding not to head out in bad weather, at night or after drinking. On the other hand, safer drivers traveled more during the same period.

The study estimated that a one percent increase in the unemployment rate could save 4800 lives annually. It suggested that autonomous vehicle technologies could replicate the effect, without requiring people to give up their jobs.

"Fortunately, it appears that recent technological advances in the automobile itself may be able to accomplish what public policies cannot by effectively recreating in expansionary periods the safer pool of drivers who are found on the road during recessions," Winston and Maheshri wrote. "Driverless cars could affect the mix of VMT in two ways. First, during the transition from human drivers to driverless cars, policymakers could allow the most dangerous drivers, who ordinarily might have their driver's licenses suspended or even revoked following a serious driving violation or who have reached an age where their ability to operate a vehicle safely has been seriously impaired, to continue to have access to an automobile provided it is driverless or at the very least has more autonomy than current vehicles."