10/26/2016
Report: No Safety Benefit From San Francisco, California Cameras
Annual report shows engineering improvements beat red light cameras for safety in San Francisco, California.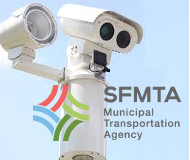 Extending the length of yellow times and improving traffic signal visibility did far more to reduce accidents than installing red light cameras in San Francisco, California. That was the conclusion of the latest annual report from the San Francisco Municipal Transportation Agency, which documented injury broadside collision rates at photo enforced intersections over twenty years.

"Seventh and Mission Streets shows how a red light camera installation can at times leave an intersection's collision trends unchanged," the report explained. "Seventh and Mission was one of the first red light cameras to be installed by the city in 1997."

San Francisco's camera vendor singled out this particular location not only for its ability to churn out violation notices, but also for its above average collision history. Things did not improve there until engineering improvements were made.

"In 1998, after the red light camera had begun operation, the location reported a higher number of collisions and was one of the highest injury collision locations for the city," the report explained. "In 2003 a major signal upgrade along the downtown portion of Mission Street was completed. This upgrade relocated the location of signal poles, installed overhead (mast arm) signals, and installed pedestrian signal indications. Annual injury collisions since the upgrade dropped significantly, suggesting it was the signal engineering upgrade and not the enforcement mechanism that in this case reduced the intersection's injury collision totals."

Collisions clearly were not a factor in the installation decisions at several other locations. At Ninth Street and Howard Street, a red light camera was added to ticket westbound traffic in 2010, even though there had been zero injury broadside collisions in the seven years prior to installation. For a decade prior to the camera installation at Marina Boulevard and Lyon Street, there had only ever been a single accident.

At Fifth Street and Howard Street, the red light camera was installed in 1996. Immediately, the number of injury broadsides jumped from 5 to 9. Then the yellow timing was increased in 1997, and accidents dropped to 3 in 1998. After a major signal upgrade in 1999, accidents fell to between zero and two for the next twelve years. The yellow timing was increased again in 2012, and that fell to between zero and one through 2015.

Last year, Xerox issued 11,851 tickets worth $5.8 million in San Francisco. The agency refused to provide a breakdown of how many tickets were issued to motorists making right-hand turns on red, even though state law requires reporting this information.

A copy of the report is available in a 700k PDF file at the source link below.