1/10/2017
UK: Speed Bumps, Traffic Calming Killed 23 Motorists
Government statistics show traffic calming measures caused 1607 accidents in Great Britain over ten years.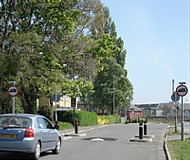 There is a significant push for traffic calming in the United States and Great Britain under marketing slogans such as "Vision Zero" or "road diets" claiming slower traffic saves lives. These efforts had the opposite of the intended consequence in the UK, where the installation of speed bumps, traffic chicanes and other obstacles intentionally placed in the roads killed 23 people and sent 275 to the hospital with critical injuries in 1607 incidents over the past ten years.

TheNewspaper analyzed UK Department for Transport data detailing the factors responsible for crashes of varying severity levels between 2006 and 2015. More than one factor can be involved in any given crash.

The push for traffic calming began in 1983 when UK legislation formally introduced road humps, or the "sleeping policeman" to British roads. Since then, the use of other traffic calming such as build outs, lane narrowing and chicanes have proliferated under the theory that "slowing down" traffic would cut down accidents. Yet the Department for Transport data show that exceeding the posted speed limit is not a significant cause of accidents, as it is involved in just 5 percent of collisions overall.

At 12 percent, environmental conditions, such as a slippery road, are far more likely to lead to a crash. The greatest number of accidents are caused by failing to look properly, 44 percent, or failing to judge another vehicle's path or speed, 22 percent -- factors which can be made worse by distractions on the road.

Yet the push for speed bumps has not slowed. The UK spent £75.6 million on traffic calming measures in 2014, an increase of 53 percent over the prior year. Churchill Car Insurance surveyed motorists and found that 23 percent had their own vehicle damaged by traffic calming measures.

Sometimes, the damage caused by speed bumps can be severe. In 2014, Dorothy Plant, 86, had just boarded a bus in West Bromwich and was walking to a seat toward the back when the jolt of the vehicle hitting a speed bump knocked her off-balance. Her fall proved fatal. In 2005, Anja Szkodowski was riding a bicycle in Bromley and did not notice a speed bump that was hidden by the shade of trees on a narrow lane. She fell after striking the obstruction and broke her jaw in three places. The incident caused by the speed bump was the only serious accident that had occurred on the road.

A copy of TheNewspaper's analysis of the UK government figures is available in a 200k PDF file at the source link below.