1/27/2017
Massachusetts Supreme Court: School Rules Do Not Apply When Driving Past
Being a passenger in a car driving past a school or park does not trigger drug-free school zone law, Massachusetts Supreme Court rules.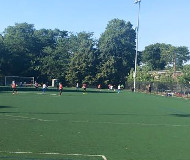 Motorists are not a "present" in parks, schools and playgrounds simply because they momentarily drove past one. The Massachusetts Supreme Judicial Court came to this conclusion at the beginning of the year in rejecting the enhanced charges that were imposed on Marcus G. Peterson for possession of drugs inside Boston's Ceylon Park on May 12, 2014.

Under state law, individuals face significantly enhanced penalties for drug possession within one hundred feet of a park or three hundred feet of a school. Except Peterson never stepped foot inside the park. He was merely a passenger in a white Chevy Cruze that stopped momentarily for a red light at the intersection of Ceylon Street and Columbia Road, which is within a one hundred foot radius of the park.

Boston police officers noticed the registration for the Cruze had lapsed and they could pull it over for an expired vehicle registration. They activated the lights on their squad car and the Chevy stopped at the next intersection -- no longer within the park. Eventually, the vehicle's four passengers were searched and the officers found crack cocaine and a handgun. Prosecutors decided to hit Peterson with the possession of drugs near a park charge, a felony carrying a 15 year maximum sentence and a $10,000 fine.

Before the trial judge ruled on Peterson's case, he asked the appellate court for guidance on whether the park possession charge should really apply. The question made its way to the state's highest court.

There, the justices noted that the law forbidding drug possession near schools and parks explicitly applies regardless of whether an individual knows that he is near a school or not. On the other hand, they cited a federal court case in which a defendant was exonerated despite being within a thousand feet of a school zone while inside an underground train station near a school. The justices decided to apply the same principle to Peterson's situation.

"Ordinarily, where the language of a statute is plain and unambiguous, it is conclusive as to legislative intent," Justice Frank M. Gaziano wrote, citing past cases. "That said, we do not adhere blindly to a literal reading of a statute if doing so would yield an 'absurd' or 'illogical' result."

The purpose of the drug-free school zone law, enacted in 1989 under then-Governor Michael Dukkakis (D), was to discourage dealing drugs to kids by imposing hefty penalties. The justices did not see that effect here.

"We do not think the legislature possibly intended [the law], to apply to an individual who merely passes momentarily by a school or a park while traveling on a public roadway in an automobile driven by another person, which would not have stopped but for a change in a traffic signal," Justice Gaziano wrote. "In these circumstances, the defendant's physical appearance in the park zone was by chance. There is no suggestion that he engaged, attempted to engage, or intended to engage in any type of drug transaction within the protected area, or had any other type of connection whatsoever to the protected area."

The justices dismissed the enhanced possession charge, leaving the other charges to be decided. A copy of the decision is available in a PDF file at the source link below.