3/14/2017
Texas Lawmakers Balk At Genuine Red Light Camera Repeal
Red light camera supporters in Texas use grandfather clause to thwart legislation banning the devices.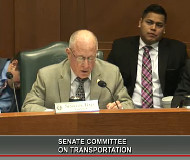 Leaders in the Texas state legislature are getting cold feet about outlawing red light cameras. The issue took center stage during a Senate Transportation Committee meeting Wednesday that heard testimony on a pair of bills that would scale back the use of automated ticketing machines in the Lone Star State. Senate leaders, however, balked at actual red light camera repeal language that, if allowed to move forward, would endanger the $32 million in revenue the state pockets from municipal camera programs.

The state legislature gave cities the authority to install red light cameras in return for a fifty percent cut of every ticket issued. If the cameras were to be outlawed permanently, that revenue source would dry up overnight. To keep that from happening, state Senator Bob Hall (R-Canton) added a "grandfather clause" to his measure, ensuring photo tickets would continue to be issued, in most cases, for another twenty years or more -- a fact noted by the legislature's budget analysts who initially missed the significance of the clause.

"Once that was pointed out to us, we made an adjustment to the fiscal note," state revenue analyst Chris Tjon explained.

The official analysis now shows the "ban" would have little or no negative impact on state revenue because it would not stop cities from using cameras. For example, a city that does not have cameras currently can sign an indefinite contract with a red light camera provider before the bill takes effect. Cities that have them are free to take steps to extend those contracts for another twenty years or more, if needed.

"The grandfather clause allows the ones that have them to continue operating them," Chairman Robert Nichols (R-Jacksonville) said. "They can actually renew it between now and [June 1] for however long."

Most of the state's red light camera programs are currently operating under twenty-year contracts signed in 2009 in response to a previous legislative attempt to ban cameras. Even though Hall's bill would have little practical impact, the lawmaker positioned the measure as a complete ban on cameras.

"Senate Bill 88 is a simple bill that will prohibit any unmanned photographic traffic signal enforcement systems in Texas," Senator Hall testified on Wednesday. "The primary responsibility of the Texas legislature is to protect the people of Texas -- that protection includes violations of constitutional rights and protection from things that put their safety at risk. Continuing to allow the unfettered existence of unmanned automatic traffic cameras is an abdication of both those responsibilities."

Hall also introduced a secondary bill meant to reduce the "punitive capability" of photo ticketing systems. Senate Bill 87 would prohibit cities from placing holds on driver's licenses over non-payment of red light camera tickets. AAA lobbied against passage of both bills, even though Texas motorists are overwhelmingly against the use of red light cameras, as measured by public votes to outlaw their use in Conroe, Dayton, Houston, Baytown, League City, Arlington and College Station. Nationwide, voters have also overwhelmingly opposed the use of cameras at the ballot box (view list of votes).

A copy of SB88 is available in a 75k PDF file at the source link below.