3/15/2017
Kansas Supreme Court Declares Reclined Seats Suspicious
A car with a reclined seat and a torn plastic bag can be searched without a warrant under Kansas Supreme Court ruling.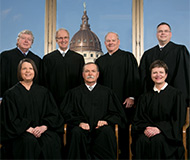 A car with a reclined passenger seat and a torn plastic bag in the center console can be searched by police at any time without a warrant under a divided Kansas Supreme Court ruling issued on Friday. The high court majority concluded that these two factors, taken together, were enough to establish a belief that Cameron Howard was involved in a crime on September 15, 2011, when he was spotted pulling into a gas station in Prairie Village.

Officer Chad Loughman had set up a ticketing trap watching the lot, anxious to cite people cutting through to avoid a long traffic light. Howard's passenger had an outstanding arrest warrant, and the officer noted that her seat was reclined. He also saw a plastic baggie in the center console that had a corner removed. This was enough for Officer Loughman to conclude he could search the vehicle, and the high court majority upheld his line of reasoning.

"Officer Loughman made the reasonable inference that the passenger's reclined seat was an attempt to conceal something from his view," the majority wrote. "This inference increased the likelihood that there was contraband in Howard's vehicle and was an appropriate consideration in establishing probable cause to search the car."

The officer testified from his "training and experience" that torn plastic bags are often used to transport drugs, so the presence of a baggie also helped establish reasonable suspicion. Combined with the reclined seat, the majority concluded that there was a "fair probability" that the vehicle contained evidence of a crime. Justices Eric S. Rosen and Lee A. Johnson disagreed with this reasoning.

"The Fourth Amendment to the United States Constitution and Section 15 of the Kansas Constitution Bill of Rights establishes 'the right of the people to be secure in their persons, houses, papers, and effects, against unreasonable searches,'" Justice Rosen wrote in his dissent. "So long as these principles stand, I cannot agree that the presence of a reclined seat and a torn plastic baggie give an officer permission to invade the privacy and protection afforded by our constitutions with a warrantless search of a vehicle."

Because the passenger, not the driver, reclined her seat, Justice Rosen argued that she just as easily could have reclined the seat to make herself more comfortable -- she was visibly pregnant at the time. The dissent noted that there is no case law supporting a search based solely on a torn baggie and a police officer's experience.

"Nor did anyone produce a case in which something as innocuous and innocent as a torn plastic baggie could transform a similarly innocent activity -- reclining a seat -- into something suspicious enough to establish probable cause," Justice Rosen wrote. "And, perhaps most importantly, either decision would all but destroy any protection still provided by the Fourth Amendment's assurance that we are free from an unreasonable search of our vehicles. For these reasons, I would conclude that there was not probable cause to search Howard's car."

A copy of the decision is available in a 350k PDF file at the source link below.