6/2/2017
Car Taxes Could Determine Control Of Washington Legislature
An open state Senate race determines control of the legislature in Washington state, and car taxes are at the top of the agenda.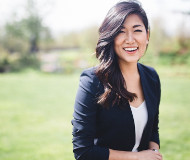 The Washington state legislature is evenly split, with a single seat giving Republicans control of the state Senate, and a two-seat advantage for Democrats in the state House. The outcome of a just one race for an open Senate seat could give the Democratic party full control of Olympia in November. Local digital currency entrepreneur Jinyoung Lee Englund is looking to hold the seat on behalf of Republicans on a platform that places automotive taxes, particularly the registration fees known as car tabs, near the top of the agenda.

"Seattle-style politicians are overzealous about taxation," Englund told KIRO radio. "The Sound Transit 3 car tabs initiative was also a tax... and it unfairly taxes people who probably will never get to use this transit system."

Englund argues that voters were mislead last year into approving the Sound Transit 3 ballot measure which raised annual car registration fees and other taxes to fund rail and bus projects in the Puget Sound region. Sound Transit insisted the average car registration hike would be only amount to $43 per year, on average, but many saw their bills more than double under a vehicle value schedule set in state law.

State Senator Dino Rossi (R-Sammamish) and Senator Steve O'Ban (R-University Place) crafted legislation to roll back the tax hike by forcing Sound Transit to base its car tax on a realistic assessment of a vehicle's value from either the Kelley Blue Book or the National Automobile Dealers Association guide -- whichever is lower. The measure passed 25 to 20 in the state Senate, but it has been blocked from a vote in the seate House. The state Senate also passed legislation 29 to 17 that would force Sound Transit board members to stand for election.

Tim Eyman, the Washington political activist who spearheaded a ballot measure that slashed car taxes in 1999, pointed to the car tabs issue as presenting voters a clear choice in the race between Englund and Democratic rival Manka Dhingra.

"In 18 years of political activism, I've never seen such a stark difference between the Republicans and the Democrats when it comes to taxes, especially car tab taxes," Eyman wrote in an email to supporters.