7/26/2017
New Jersey Appellate Court Says Accidents Not Always Careless
Causing a fender bender is not proof of carelessness in a New Jersey court.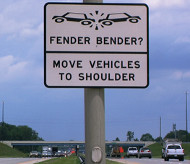 The driver who rear-ends another car at a traffic light is often assumed to be automatically at fault for being careless. Not so fast, a two-judge appellate panel in New Jersey said on Thursday. The state's second-highest court was asked to decide whether to uphold Duke Nyangweso's conviction for careless driving after he slammed into the car being driven by Cassandra Markman on the Bayonne Bridge on March 3, 2015.

"Traffic was pretty far behind me," Markman said in describing that morning. "The next thing I know traffic is slowing down and I get hit from the rear, which in turn caused me to hit another car in front of me. I get out of my car and I go around and I look and I see my bumper is hanging a little in the back."

A New Jersey state trooper did not see what happened, but after examining the scene Nyangweso was given a ticket. That left Markman as the only witness who testified at the man's trial. Nyangweso insisted that he was innocent, but a Bayonne Municipal Court judge was not persuaded. He was found guilty because Markman's testimony was very credible. On appeal to the Superior Court's Law Division, Nyangweso was found guilty once again.

Nyangweso's argument was simple. The state has to prove every element of its case, and here prosecutors were just assuming that his driving was careless. In legal terms, the lower court judges were asserting that the facts speak for themselves (res ipsa loquitur) -- that causing an accident is itself evidence of inattentiveness. The appellate judges agreed with Nyangweso's explanation of the law.

"Contrary to the Law Division's statement that its decision was not based upon res ipsa loquitur, it effectively applied that standard," the Appellate Division's ruling stated. "The mere fact that a collision occurred does not establish beyond a reasonable doubt that defendant was inattentive or driving carelessly. Given that the state trooper did not testify, there was no indication what observations he made at the accident scene, or any statements made by defendant, that influenced his decision to issue defendant a summons for careless driving."

Without that evidence, the charge cannot stand, and the judges vacated Nyangweso's conviction. A copy of the unpublished ruling is available in a 60k PDF file at the source link below.