8/1/2017
Motorist Group Urges Trump Admininstration To Dump Ticket Quotas
National Motorists Association urges president, transportation secretary to nominate traffic safety administrator who will end ticket quotas.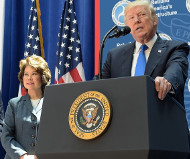 The time has come for the federal government to stop its support for ticket quotas, a driver's rights group said in a letter to US Transportation Secretary Elaine Chao. National Motorists Association (NMA) President Gary Biller wants the Trump administration to nominate a National Highway Traffic Safety Administration (NHTSA) chief willing to "shake up the status quo."

"The federal and state governments treat motorists like disciplinarian 'spare the rod, spoil the child' parents except that motorists aren't children and there is scant evidence that the penalties inflicted by forced ticketing campaigns improve highway traffic safety," Biller explained in a statement Monday.

The NMA points out that half of NHTSA's $1.2 billion budget is allocated to highway safety grants which, in turn, are dished out to individual state governments to pay the overtime costs of police agencies that set up speed traps. To be eligible for the funds, the agencies must track the number of speeding tickets issued, which the NMA says is arguably a ticket quota system.

"What isn't debatable is that making funding contingent on meeting certain activity levels is a direct incentive for state and local law enforcement to implement a quota system," Biller wrote. "At a time when we desperately need stronger bonds of trust and respect between the nation's 250 million licensed drivers and police agencies, the current system is only making the situation worse."

The motorist-rights group sent its recommendation to Transportation Secretary Elaine Chao, who serves as the administration's lead on transportation policy. The letter asked Chao to redirect funds currently used to bankroll traffic citation blitzes and use it to underwrite activities with a greater impact on safety.

"Federal programs should encourage advanced driver skills training for novice drivers, and require that states reevaluate and optimize posted highway speed limits to encourage more natural, uniform traffic flow, as this is the time-tested method of reducing accidents," Biller concluded. "Section 402 and High Visibility Enforcement grant monies should also be redirected to desperately needed state road construction projects."

The NHTSA administrator position has been vacant since January 20 when President Obama's pick, Mark Rosekind, resigned. David Friedman, the agency's interim leader, left earlier last month to work for Consumers Union.