9/12/2017
Indiana: Court Upholds Stop For Unexpired Registration
Indiana Court of Appeals upholds traffic stop of a vehicle pulled over several hours before its registration expired.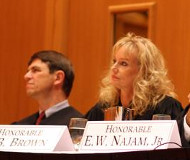 The Indiana Court of Appeals decided Thursday that police officers can pull over motorists for having expired tags before their registrations actually expire. Indiana registrations lapse at midnight on a day determined by the owner's last name, but an Indianapolis police officer decided to test the limits on October 21, 2015 by pulling over a car before midnight.

Officer Cameron Taylor says that he saw a car, ran its plate, and the computer said the plate was "expired," though the date of expiration was October 21. During the ensuing stop, Officer Taylor asked the passenger, Kevin L. Dowdy, now 32, to show identification. Although he did not need to do so, Dowdy gave his name and birthdate. When the officer looked it up, he found that Dowdy had an outstanding warrant for driving on a suspended license. As Dowdy was placed under arrest, the officer found a narcotic pill in his pocket.

Dowdy fought back against the drug possession charge by arguing the traffic stop was unlawful and the evidence against him should be suppressed. The trial and appellate judges zeroed in on whether Officer Taylor's decision to pull over a car on its expiration date violated the law. He testified that he was not paying close attention to the computer readout.

"I'm just -- you know, I'm not trying to read every little detail about -- I don't care when the plate was issued," Officer Taylor explained. "I don't necessarily care when it was expired. I just look to see that it's expired according to the Bureau of Motor Vehicles because that's where I get my returns from."

Indiana law does not directly state that registration expire at midnight in every case, rather it lays out the midnight expiration rule in describing what happens when expiration falls on days when the Bureau of Motor Vehicles is closed. The three-judge appellate panel agreed with the lower court that under the US Supreme Court's Heien precedent (view case), traffic stops can still be valid even when the driver committed no offense.

"Even assuming that Officer Taylor was ultimately mistaken in his belief that a violation occurred, the traffic stop was based upon a good faith, reasonable belief that a statutory infraction had occurred," Judge Elaine Brown wrote for the appellate court. "Under the totality of the circumstances, we conclude that the stop and search was reasonable and did not violate Dowdy's rights."

The court noted that, as a passenger, Dowdy would have been free to refuse to identify himself during the stop. The officer's request for ID was found legitimate because it was phrased in the form of a question, asking if Dowdy "wouldn't mind giving his identification."

A copy of the ruling is available in a 200k PDF file at the source link below.