9/22/2017
Florida Supreme Court Says Police May Detain Innocent Passengers
Passengers not suspected of any wrongdoing can be held and questioned by police during any traffic stop under Florida high court ruling.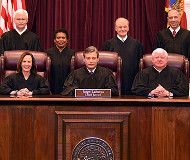 Passengers in automobiles that are pulled over for minor traffic violations are not free to leave the scene, the Florida Supreme Court ruled Wednesday. The justices insisted that it did not violate constitutional rights to hold a passenger not suspected of any wrongdoing for a "reasonable" time.

The high court came to this conclusion after evaluation the January 29, 2015 traffic stop in which a car with a faulty tail light was pulled over in Gainesville for allegedly rolling through a stop sign. Gregory Presley was one of two passengers in the stopped vehicle questioned by Officer John Pandak about who he was and where they were going. Presley bristled after Officer Pandak began asking if he had been drinking, asking what the problem with that would be.

"I don't know, man," Officer Pandak replied. "This is a traffic stop, you're part of it. So we're hanging out. That's all there is to it.... Well, we're just talking, man. You can't go anywhere at the moment because you're part of this stop. That's all."

A records check showed that Presley was on probation and forbidden to consume alcohol. He was arrested on the spot for the violation. At trial, Presley moved to suppress the evidence against him on the grounds that it was obtained from an illegal detention. Florida's appellate courts split on the question, so the high court resolved the issue by agreeing with prosecutors that an officer's safety trumps a passenger's rights.

"The intrusion upon personal liberty is de minimis because the method of transport has already been lawfully interrupted by virtue of the stop, the passenger has already been stopped by virtue of the driver's lawful detention, and routine traffic stops are brief in duration," Chief Justice Jorge Labarga wrote for the court.

The court pointed out that the passenger cannot be detained any longer than the amount of time it takes to check the driver's license and write him a ticket, unless there is reason to suspect the passenger is involved in a crime.

"Detention is permissible for this limited period of time because it allows law enforcement officers to safely do their job -- accomplishing the 'mission' of the stop -- and not be at risk due to potential violence from passengers or other vehicles on the roadway," Justice Larbarga concluded.

While the natural consequence of this ruling might be to assume that an entire bus full of people could be held against their will because the bus driver failed to signal a lane change, the high court was unwilling to go so far.

"In reaching this holding, we expressly decline to address whether law enforcement may detain passengers during a traffic stop of a common carrier or a vehicle that, at the time of the stop, is being utilized as part of a transportation-based business," Justice Labarga noted.

Justice Barbara J. Pariente agreed with her colleagues that this is the proper interpretation of US Supreme Court precedent, but she noted this was a case in which a black man was being interrogated in his neighborhood in the morning against his will on a thin pretext.

"When the traffic stop does not give rise to a need to question passengers or ask for their identification, I fail to comprehend why the interrogation of passengers on matters unrelated to the traffic stop, so long as those inquiries do not measurably extend the duration of the stop, does not intrude on the constitutional guarantee to be free from unreasonable searches and seizures," she wrote.

A copy of the ruling is available in a 250k PDF file at the source link below.