10/3/2017
DC Board Slams Police Search Tactics
City board reports that Washington, DC police have been misusing consent searches in traffic stops and other investigations.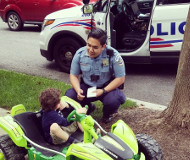 Complaints are on the rise in DC over the way Metropolitan Police Department officers have been conducting searches, according to a report released last week from the DC Police Complaints Board. The board's investigators examined the way "voluntary" searches of cars, persons and homes were handled in light of complaints of harassment, coercion and racial motivation. Three-quarters of the complaints came from black residents, mostly from the sixth and seventh police districts in southeast.

"When officers routinely request consent searches it erodes individuals' belief that the police are the guardians of our neighborhoods and fosters ill-will in areas of the District of Columbia that have the most need for improving trust," the report stated. "Every step forward in community policing is offset by two steps backward whenever a law-abiding person is faced with a decision to comply with an officer's request to search their person, belongings, vehicle, or home."

The report recommended that the department require the use of consent forms that spell out a motorist's right to decline the search. The motorist's signature on the form also serves as proof for police officers that consent was actually granted. Although DC has an official consent search form, it is never used. Currently, all officers need to do is write down that consent was given in a notebook, and the burden is on a defendant to prove otherwise in court. The complaints board found the existing system failed to document searches in a useful way.

"This creates a lack of oversight for the officers' actions, and makes it impossible for the department to meaningfully track the number of consent searches, who the subjects are, and which officers are conducting them," the report stated. "This information is important for determining if consent searches are being abused, and if so, if there are specific officers who are disproportionally responsible."

The board also recommended updates to the police policy on searching and modifications to police training that would emphasize the need for consent searches to be truly voluntary. The current police policy document does not even mention the need for a search to be voluntary.

A copy of the report is available in a 400k PDF file at the source link below.