10/5/2017
Canada: Study Examines The Safety Impact Of Ending Photo Radar
University study finds removal of photo radar from Sherwood Park, Canada had no negative impact on traffic safety.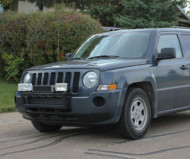 Several studies have attempted to examine the effect of speed camera installation on traffic safety, with mixed results. A study released in August decided to look at the question from a different angle, asking what happened when Sherwood Park in Alberta, Canada implemented a partial ban on photo radar.

Mobile speed camera vans began mailing out automated tickets in 1997. In 2011, these were replaced with unmanned systems disguised as utility boxes that helped issue 75,035 tickets worth $7,588,848 between 2009 and 2012. The cameras were removed on September 1, 2012 at the urging of Strathcona County Councillor Brian Botterill, who wanted to know whether his proposal had succeeded or not.

"Councillor Botterill requested a before-and-after analysis of mobile photo radar to further understand how automated camera enforcement influences traffic safety in Sherwood Park given the evidence available," the study's author, Jason Gariepy, explained.

Gariepy compared eleven years of data while the mobile cameras were active to four years of data without the cameras. The database contained records for 16,000 collisions in the town of 70,000.

"The results show that weather has a much greater impact on the number of traffic collisions than photo radar revenues or violation tickets issued," the study found. "In fact, while the presence of automated technology is shown to have a technically negative effect on the number of collisions, the effect is minuscule and outweighed by other factors."

The analysis adjusted the monthly collision numbers a population that has grown 48 percent in the past fifteen years. Among the variables considered in the statistical analysis, weather appeared had the greatest impact on collision numbers. The study acknowledges that the value of the results are limited by the town's continued use of red light cameras that also issue automated speeding tickets.

"Based on the available data, there is no evidence to suggest that there is a significant correlation between presence of mobile photo radar and traffic collisions," the study concluded. "Ultimately, more data, including frequency and hours of mobile photo radar enforcement, are necessary to establish whether mobile photo radar enforcement is responsible for reductions in fatalities, major and minor injuries, and property-damage-only collisions."

A copy of the study is available in a 2.2mb PDF file at the source link below.