11/7/2017
Federal Rules Add $2100 To Cost Of New Cars
US Department of Transportation report calculates federal safety regulations increase car prices by $2100 and weight by 171 pounds.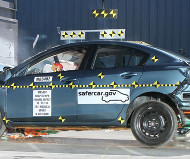 The thousands of pages of federal rules and regulations governing the way automobiles are designed has made cars and trucks more expensive and heavier than ever. A report released last week by the National Highway Traffic Safety Administration (NHTSA) calculated that the various mandates boosted the sticker price of new cars by an average of $2100 (using 2017 dollars). Red tape also made the average car 171 pounds heavier than it would have otherwise been.

By the 2012 model year, the average automobile tipped the scales at 3380 pounds and cost $25,553 (using 2012 dollars). According to Environmental Protection Agency statistics, the combined car and truck average weight reached an all-time high in 2011, as vehicles became heavier than they were even in the 1970s.

Current federal rules require that each new vehicle be equipped with 38 specific "safety" technologies. In the early days of regulation, the burden was light. An automobile built in 1968 only had 20 pounds worth of federally mandated safety equipment at a cost of $224 (in 2012 dollars). Over the course of four decades, the mandates multiplied and the inflation-adjusted cost and total weight expanded seven-fold.

The NHTSA report calculates that the most expensive mandate is antilock brakes, which cost $387, followed by front airbags and side airbags at $337 and $270 each. Other required features are of questionable safety value, including the requirement that every car have an emergency glow-in-the-dark release latch for individuals who are locked in the trunk, as well as unremovable warning labels and door chimes.

The report excludes the cost of safety equipment that all manufacturers provided before the adoption of federal standards. It also excludes the cost of equipment for which there is no federal mandate, such as intermittent windshield wipers and rear window defoggers.

"Their development has been voluntary on the part of the industry, in response to customer demand," the report explained. "Drivers want a clear rear window, and they like a device that clears it for them automatically, so they do not have to wipe or scrape it repeatedly. NHTSA has evaluated rear-window defrosters and defoggers and was unable to conclude that they reduce police reported crashes."

The newest federal mandate requires all cars manufactured after May 2018 to have a backup camera and display unit at a cost of $163 and 5 pounds of weight.

The EPA report also noted that manual transmission production reached a peak of 31 percent of cars in the 1980 model year, falling to 3.9 percent in 2015. In trucks, the number of manual transmissions fell below one percent (view report excerpt in a 1.4mb PDF file).

A copy of the new NHTSA report is available in a 3.6mb PDF file at the source link below.