12/15/2017
Federal Cash Promoted Rhode Island Ticket Quotas
Email evidence shows US Department of Transportation grant program inspired an illegal ticket quota system in Rhode Island.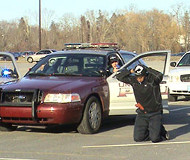 The American Civil Liberties Union (ACLU) last month warned Rhode Island police chiefs against the use of ticket quotas that are illegal under state law. The civil rights group began working on the issue after a WJAR television investigative report found evidence that police were ordered to issue a specified number of tickets in response to a federal grant program known in the state as Operation Blue Riptide.

The National Highway Transportation Safety Administration sends funds for this program to the Rhode Island Department of Transportation, which in turn distributes the cash to local police departments. The money is ultimately sourced from the gasoline taxes motorists pay at the pump nationwide. It is used to pay officers between one-and-a-half and double their normal salaries while participating in speeding ticket blitzes and operating highway roadblocks. In July, the National Motorists Association asked the Trump administration's new secretary of Transportation to put an end to the quota-driven federal program (view letter).

Reporters for WJAR obtained incriminating emails from the Charlestown Police Department about the strings attached to the federal money.

"This grant mandates five traffic stops per hour," Lieutenant Patrick J. McMahon wrote to patrol officers on October 11, 2016. "Warnings are not allowed when participating in this particular federally funded grant. So if you feel your discretion is being taken away, please do not sign up for this patrol overtime."

On October 7, 2015, Charlestown Police Sergeant James S. Dufficy sent out a memo to officers summarizing a patrol command meeting about "how we can increase our productivity."

"Make four contacts during your shift," he ordered. "This can be in the form of a traffic stop or field interviews... Tickets are encouraged."

The officers were accurately describing the mandate imposed by the state's own highway safety plan. The fiscal year 2007 through 2009 plans included unambiguous language about ticketing being central to the project.

"Increase enforcement, as measured by the number of citations for speeding during Operation Blue RIPTIDE/state police speed monthly enforcement mobilizations (12,439 in fiscal year 2005)," the plan stated as a primary goal.

The Rhode Island DOT even created the "Chief's Challenge Incentive Reward Program" to encourage cities to compete with one another to drive up their numbers. ACLU attorneys suggest this incentive is counterproductive.

"An encounter between a motorist and a police officer over a traffic violation is never a pleasant one, but it is even less so when the basis for the stop is to meet a quota, not to address a truly legitimate safety need," the ACLU wrote. "A quota policy can only generate disrespect for, and cynicism about, law enforcement."

Rhode Island Code Section 31-27-25 forbids any law enforcement agency from having any policy "formally or informally requiring any officer to meet a quota."