6/1/2018
Move Over Cameras To Ticket Vehicles Traveling The Speed Limit
Speed camera company plans to deploy move over camera to ticket drivers even when they are not exceeding the speed limit.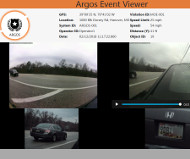 Drivers who are obeying the speed limit may still be at risk of getting a ticket in the mail after passing by a new automated ticketing machine. The speed camera company Brekford plans to introduce a "move over" camera in July that will automatically issue tickets when the machine believes an automobile has passed by a police car or garbage truck on the side of a highway.

"The patent pending system will combine leading edge camera and radar technology with an advanced triggering mechanism to detect, capture, and record 'move over' law violations," Brekfrod explained to investors. "It will also include built-in artificial intelligence-based automated license plate reader or ALPR capability."

All states have a move over law on the books, requiring cars approaching a special vehicle with flashing lights on the side of the road either to immediately switch lanes or hit the brakes to scrub off 15 MPH to 20 MPH of speed -- or face a ticket. The laws were initially introduced to protect police officers, but many states have already broadly expanded the provision to other professions.

Alaska's statute applies to the dog catcher. Alabama applies it to tow trucks. Connecticut applies it to any "maintenance vehicle." Missouri applies it to civil defense agency vehicles and prison guards responding to a riot. North Carolina includes the cable guy. Pennsylvania added the coroner.

Brekford hopes to issue to tickets to individuals confused by the requirements, citing a poll that says 71 percent of Americans have not heard of the move over law. In April, the Cedarview Opportunities Master Fund loaned Brekford $2 million to keep the company afloat in the wake of consecutive and disappointing earnings reports. Most recently reporting $421,364 in red ink in the final four months of 2017, on top of $2,342,718 in losses for 2015 and 2016.

"Brekford incurred additional marketing and R and D expenses which resulted in a net loss," Brekford's new parent company, Novume, explained in a Securities and Exchange Commission filing.

Brekford on Wednesday announced it had completed a test of the system in Alberta, Canada. Marketing material suggests another target market could include New York.