10/16/2018
Michigan Motorist Fights Tire Chalking
Sixth Circuit US Court of Appeals to rule on whether meter maids need to obtain a warrant before chalking tires.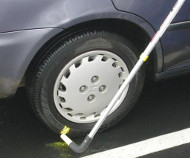 Meter maids may need to contact a judge to obtain a warrant before drawing chalk marks on car tires, depending on the findings of a three-judge panel. The Sixth Circuit US Court of Appeals earlier this month heard arguments in a case that will decide whether the use of chalk to track cars and issue parking tickets constitutes an unlawful search, as if the meter maid had placed a GPS tracking device on the vehicle without a warrant.

Motorist Alison Patricia Taylor sued Saginaw, Michigan, after meter maid Tabitha Hoskins accused her of parking near an expired meter on fifteen separate occasions. Each time, Taylor noticed the chalk marks on her tire, and her lawyer, Philip Ellison , argued that tire chalking violated the US Supreme Court precedent set down in the GPS tracking case US v. Jones.

"It's an interesting case because it questions something we may have seen for the last number of years and the question is, does that continue to be constitutional after Jones?" Ellison asked. "The marking of the chalk is a physical occupation of Miss Taylor's vehicle, and it was done for the purpose of gathering information."

City attorney Brett T. Meyer conceded that the use of chalk constitutes a search, but he insisted such a search is inherently reasonable. Ellison countered that there is no fundamental difference between the chalk mark and the high-tech satellite tracking beacon that the high court said was unlawful.

"It's the same thing -- it's an intrusion upon private property for extracting information," Ellison said. "It's the same information: where the vehicle is parked and where it's going... It's just the technology is less complex."

Trial judge Thomas L. Ludington had tossed out the case at the first opportunity. Appellate Judge Raymond M. Kethledge noted that the argument was novel and interesting, but he wondered whether the case would get very far if it proceeded to the stage where the government would argue there is an administrative search exception to the requirement to get a warrant.

"It leads to a balancing test, which would probably be a very scary thing for you," Judge Kethledge told Ellison.

Judge Bernice B. Donald wondered how the Fourth Amendment exception allowing warrantless searches for "community caretaking" could possibly apply when there is no matter of public safety involved.

"As Judge Kethledge commented, this is really a revenue generating regulation," she said.