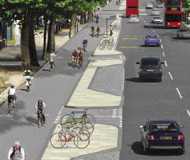 6/15/2018

UK: London Mayor Spends $1 Billion On Barely Used Cycle Lanes
Bicycling accounts for between one and two percent of travel in London, England, but it receives the most attention from the mayor.


London mayor Sadiq Khan in 2016 announced his five-year plan to spend £770 million (US $1 billion) to promote bicycling even though it accounts for less than two percent of trips. The latest figures from the UK Department for Transport suggest motorcycles and automobiles are far more important for getting around the British capital, accounting for 78 percent of distance traveled and 62 percent of trips nationwide. Khan is lavishing millions, however, on the mode that accounts for 1.8 percent of ...




---