top headlines:
Friday, May 17, 2013
California: City Obsessed With Red Light Camera Ticket Numbers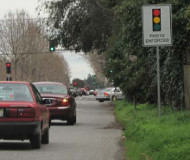 California is the largest market for red light cameras in the country thanks to the fines set by the state running nearly $500 each. Municipalities that adopt the technology are quick to deny any possibility that financial considerations have anything to do with their decisions to monitor local intersections. Internal discussions between the city of Menlo Park and camera vendor Redflex Traffic Systems suggest otherwise. Menlo Park is currently in the process of deciding whether to renew its contract, so earlier this month the city signed a sixty-day extension allowing four cameras to continue operating until July 2. The decision of whether to install a fifth camera hinges on the number of citations that can be generated, not on any accident reduction consideration, according to a review of emails between the Menlo Park Police Department and Redflex. Redflex currently charges a monthly fee of $5651.50 for each intersection camera it operates. That means to be profitable, a location must generate just twelve paid tickets each month. On March 11, Redflex spent twelve hours videotaping traffic at the intersection of Bayfront Expressway and Chilco Street, counting how many tickets it might be able to issue in that time. For the eastbound direction, the company counted zero violations caused by a driver running straight through a red signal -- the type of violation that might cause an accident. Instead, there were 114 vehicles turning right on red, a maneuver that, though ticketable, is rarely dangerous according to federal data (view study). The result at the intersection would be sufficient to issue $650,000 worth of tickets annually. "My only question is: since most of the violations are right turns, how long would that be sustainable?" Traffic Sergeant Sharon A. Kaufman asked in a March 28 email to Redflex. "Once behavior changes will we see a drastic reduction in the number of citations/violations?" The response from Redflex account representative Mark Riggs presupposed no such behavior change. "The normal process for a new approach is the first few months there will be high numbers then it will begin to decline and stabilize," Riggs replied. "Where it drops is anyone's guess due to all of the variables involved. I can say that most intersections that have right turns enforced continue to produce consistent numbers." The emails show that Menlo Park has not changed its ways since it was slammed three years ago by the San Mateo County Civil Grand Jury for focusing solely on citation numbers (

view grand jury report, 1mb PDF file). "Based on interviews and responses to survey questions, the reporting of accident statistics is not being used as a measure of the effectiveness of red light cameras," the grand jury found. "The primary emphasis appears to be on the number of citations issued. Based on the data provided by the cities, there was no overall trend indicating a noticeable change in accident rates before and after installation of red light cameras." From 2008 to 2012, Redflex issued 23,066 tickets worth $11 million in Menlo Park. In February and March of this year, Redflex mailed $330,000 worth of tickets, according to data supplied by HighwayRobbery.net.
Source:

Internal city emails to Redflex (City of Menlo Park, California, 3/28/2013)


Thursday, May 16, 2013
Maryland: Another City Forced To Refund Illegal Photo Tickets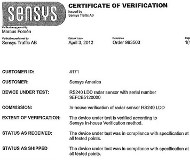 Hagerstown, Maryland announced Wednesday that it would refund 808 illegally issued speed camera tickets. Brekford Corporation mailed the citations between the end of December and January using three automated ticketing machines that failed to meet the certification requirements of state law. "A speed monitoring system shall undergo an annual calibration check performed by an independent calibration laboratory," Maryland Code Section 21-809 states. "The independent calibration laboratory shall issue a signed certificate of calibration after the annual calibration check that shall be kept on file; and shall be admitted as evidence in any court proceeding for a violation of this section." A motorist who intended to fight a photo ticket requested the calibration certificate for use at trial in January, but the city responded with a March 5 letter denying the request, despite the law's requiring calibration documents be kept on file. The Maryland Drivers Alliance investigated the incident and forced the city to release an "in-house" calibration certificate from Sensys, the Swedish firm that manufactured the speed camera that Brekford operates on Hagerstown's behalf. Another court challenge used the newly obtained documents and Washington County District Court Judge Mark D. Thomas agreed that the lack of independent certification rendered the citations void. All charges were dismissed. The finding raises the potential of similar refunds for citation recipients in the city of Laurel where six of Brekford's speed cameras operated under calibration certificates provided by the speed camera manufacturer Sensys, not an independent lab. In December, Baltimore was forced to issue refunds for photo radar tickets after Xerox, the company that operates the cameras on the city's behalf, admitted that 5.2 percent of the tickets were issued based on bogus radar readings (view report). The Maryland Drivers Alliance is encouraging ticket recipients in the state to file a public information act request for the calibration certificates before paying any fines. The group provides a sample request form on its website and offers to assist motorists in understanding the documents.


Wednesday, May 15, 2013
Chicago, Illinois Inspector General Rejects Red Light Camera Justification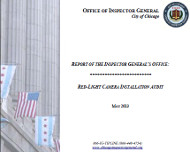 There is no evidence that the world's largest red light camera program is operated as a safety program, according to a report released Tuesday by the inspector general for the city of Chicago, Illinois. The independent investigation comes as Redflex Traffic Systems continues to operate every aspect of the automated ticketing program despite Mayor Rahm Emanuel's promise to cut ties with the Australian firm. Earlier this year, Redflex was caught in a $2 million bribery scheme designed to ensure Windy City officials would continue adding new cameras to boost the company's bottom line. The audit results are consistent with the suggestion that the locations for the new cameras were selected for the benefit of Redflex, not city residents. "CDOT [the Chicago Department of Transportation] was unable to substantiate its claims that the city chose to install red-light cameras at intersections with the highest angle crash rates in order to increase safety," the report found. "Neither do we know, from the information provided by CDOT, why cameras in locations with no recent angle crashes have not been relocated, nor what the city's rationale is for the continued operation of any individual camera at any individual location." The city gave Redflex $19.1 million for 384 cameras stationed at 190 intersections. Redflex has no financial incentive to issue additional tickets because it is paid the same $52,740 annual fee for each camera whether the location issues 328 citations or 19,805 (the lowest and highest volumes recorded at an intersection, respectively). In 2012, Redflex issued 612,278 tickets, collecting $71,943,053 in revenue. Redflex offers a turn-key operation, leaving municipalities with no true responsibilities. So when the inspector general asked for crash data that might justify the cameras, Chicago responded that it does not collect the sort of reliable data that the audit requested. An independent analysis conducted by a University of Chicago adjunct professor in 2010 found no accident reduction where cameras were used (view report). The city also failed to provide any documentation that the yellow signal timing at the photo enforced locations is appropriate for traffic conditions. Chicago just uses a blanket 3 seconds for intersections with a 30 MPH posted speed limit and 4 seconds for 35 MPH intersections. "We found a lack of basic recordkeeping and an alarming lack of analysis for an ongoing program that costs tens of millions of dollars a year and generates tens of millions more in revenue," the report stated. The inspector general recommended the city come up with guidelines regarding selection of camera locations that would allow independent verification of whether continued camera use makes sense. When Chicago names another vendor to take over the red light camera program, Redflex will walk away having earned $106 million since the program began. A copy of the audit report is available in a 1.1mb PDF file at the source link below.
Source:

Red light camera installation audit (Inspector General, City of Chicago, 5/14/2013)


Tuesday, May 14, 2013
Maine: Legislation Would Reverse Toll Road Secrecy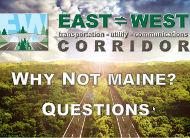 The Maine state legislature's Joint Transportation Committee on Monday reported a bill that would lift the veil of secrecy from a major toll road project and force private developers to pay for their own feasibility studies. On April 5, 2012 Governor Paul LePage (R) signed a bill ordering the state transportation department to conduct an economic feasibility study of a $2 billion, 220-mile toll road cutting across the state from east to west, connecting the Canadian provinces of New Brunswick and Quebec. The new bill repeals that provision. "We should not be using public funds to conduct a study for a private project," state Senator Edward J. Mazurek (D-Knox County), the bill's sponsor, testified. "We have a range of existing state transportation projects waiting for funding, and siphoning limited public funds to private projects is not acceptable." The state transportation department was supposed to have completed its study in January, but agency officials suspended the project after failing to receive key documents. "To perform such a study, we need to have reliable information about the connections between the new proposed highway and existing public infrastructure," Maine DOT legislative liaison Nina A. Fisher explained. "Without knowing these connections, we cannot properly identify proposed highway users or their willingness to pay tolls." The committee voted to repeal the mandate for the study and make public any work done to date on the project. "Notwithstanding any law to the contrary, all documents, including, but not limited to, emails, attachments, letters, contracts, reports, records, notes, summaries, working papers, plans, interoffice and intraoffice memoranda and drafts or any other materials created, received or transmitted by the Department of Transportation in connection with Resolve 2011, chapter 147 are not confidential and are subject to public review," Legislative Document Number 985 states. In most states, toll roads constructed with substantial public assistance keep all materials regarding the proposal secret until after the final contracts are signed. The critical traffic and revenue analysis as "proprietary" data that cannot be disclosed. A study released last month found the secret traffic analyses conducted in Orange County, California were significantly inflated, leading to the loss of millions in taxpayer money (view report). The committee turned back stronger attempts to outlaw the project, but that did not stop local activists from testifying that the state's public-private partnership (PPP) statute should also be repealed. "Repealing the PPP law would protect the public from misuse of taxpayer money for private interests, protect the public from assuming at least 50 percent of investor debt on a project for private profit, protect the public from being on the hook completely if the project fails, ensure public infrastructure for public use, and protect the public's social, environmental, and economic assets that benefit us all," Chris Buchanan with Stop the East-West Corridor testified. "PPPs in general have proven in other states to socialize risks and privatize profits. In many cases, PPP projects have cost taxpayers more money than if they had done the project publicly in the first place." A copy of the legislation is available in a 25k PDF file at the source link below.
Source:

Legislative Document Number 985 (Maine Legislature, 5/14/2013)


Monday, May 13, 2013
Ohio Appeals Court Forbids Traffic Stop Over Unpaid Parking Tickets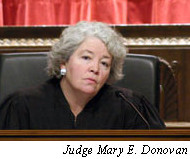 Since April last year, Dayton, Ohio has been trying to generate millions in additional revenue by towing vehicles said to have unpaid photo enforcement or parking tickets. The city's policy instructed police to pull over motorists and taking their car away until the alleged debt was paid. To keep a steady stream of $85 citations, Redflex Traffic Systems of Australia operates ten red light cameras and ten speed cameras in Dayton. "We have a substantial number of people who continue to ignore our traffic laws and flout the system," Police Chief Richard Biehl explained in a press release announcing the policy on April 9, 2012. "Unfortunately, we sometimes have to tow vehicles to get the driver's attention and cooperation." In a decision late last month, the state Court of Appeals said Chief Biehl and the city have been flouting the Constitution. Three days before that press release was issued, Officer Jeff Hiber pulled over a car he saw on Salem Avenue because a license plate check claimed its driver had three unpaid parking tickets. In the course of the stop, passenger Edward L. Dukes, was caught with a small amount of crack cocaine. A Common Pleas Court judge upheld the stop as legitimate. "Officers may stop and detain a motorist when observing any traffic offense or violation of the law and no independent 'reasonable articulable suspicion' of other criminal activity is required under Terry," the lower court judge ruled. "Here, Officer [Hiber] had authority to stop the car (and tow) pursuant to Dayton Police Department General Orders 3.02-6 Towing Motor Vehicles, 3.02-03 Parking Enforcement, and Executive Order 7-2012." In Ohio, photo tickets and parking tickets have been made civil violations to minimize due process protections for ticket recipients, streamlining the collections for municipalities. The three-judge appellate panel pointed out that this arrangement also eliminates the criminal element from any charge that would justify a warrantless seizure of a driver. "Hiber's testimony is clear that he initiated the traffic stop herein because the vehicle was on the police department's 'tow-in-list,'" Judge Mary E. Donovan wrote for the appellate court. "He did not observe a traffic violation or testify that he possessed a reasonable articulable suspicion of criminal activity when he stopped the car." The court blasted the city of Dayton and state prosecutors for attempting to justify a traffic stop based merely on the April 2012 towing policy issued by Chief Biehl. "We disagree with the state's assertion that the public's interest in obtaining the hundreds of thousands of dollars owed to the city for unpaid parking citations outweighed Dukes' privacy interest as a passenger in a vehicle on the tow list," Judge Donovan wrote. "Driving a motor vehicle while owing civil parking fines is not a crime. In other words, the protections guaranteed by the Fourth Amendment cannot be altered by means of an executive order issued to police department personnel." The court reversed the conviction of Dukes. A copy of the decision is available in a 50k PDF file at the source link below.
Source:

Ohio v. Dukes (Court of Appeals, State of Ohio, 4/26/2013)




This is a journal covering motoring issues from around the world from a political perspective.


search tips | about us | site map

Subscribe
Receive free email or RSS news updates.

Key Documents
Documents, studies and memos about camera enforcement.

Archives
View previous news items.

Feedback
Contact the editors.

View Main Topics:

Popular Stories

-Missouri Cop Harassment Video

-Photo Enforcement Bans

-Most Popular Stories

Popular Studies

-Red Light Camera Study Roundup

-2007 Virginia DOT: Cameras Increase Injury Accidents

-2005 Washington Post: Accidents Doubled with Cameras

-2004 North Carolina: Red Light Camera Study (Burkey-Obeng)

-Majority Leader Armey Red Light Camera Report

-Longer Yellows Reduce Crashes (TX Transportation Institute)

-HOV/Carpool Lanes Cause Accidents




Since 1999, Washington, D.C. cameras have issued 4,500,103 tickets worth $312 million (as of 5/30/10).