top headlines:
Sunday, March 02, 2014
Arizona, Ohio, France: Speed Cameras Ridiculed, Disabled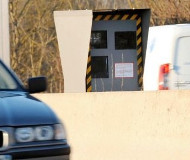 A speed camera failed to prevent an accident in Prescott Valley, Arizona last week Sunday. The Prescott Valley Tribune reports that a driver slammed into the automated ticketing machine on Glassford Hill Road and Long Look Drive, knocking it over completely. Police have no idea who might be responsible. In New Miami, Ohio, a "For Sale" sign was slapped on the back of a mobile speed camera trailer on Thursday. According to Journal News, the automated ticketing machine was on US 127 was being offered for $1 million. Humorless police officers removed the sign. Vigilantes disabled a speed camera in Parempuyre, France last week Sunday. According to Sud Ouest, the lens of the automated ticketing machine on the D210 was covered is a gray-green paint.


Friday, February 28, 2014
Activists in Los Angeles, California Push For Vote On Parking Ticket Reform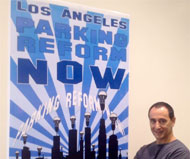 Motorists fed up with parking tickets in Los Angeles, California are fighting back. Each year, the city hits drivers with one-third of a billion in various charges, fees and fines related to parking. A federal lawsuit was filed on Monday arguing the fees are excessive, and a separate effort to force reform through a ballot initiative. Angelenos are known for their automotive passion, immortalized in songs from the 1960s like Jan and Dean's "Dead Man's Curve" or Missing Persons' "Nobody walks in LA" from the 1980s. The city takes advantage of this by imposing fees for parking permits and licensing worth $2 million. Parking lots raise $6 million. Parking meters collect $52 million. A tax on parking generates $95 million. Meter maids hand out $157 million in parking tickets. Taken together, parking charges represent $313 million in income for the city government. The Los Angeles Parking Freedom Initiative wants 60,000 signatures on a petition to change the system. Jay Beeber, a fellow with the Reason Foundation, and Steven Vincent are leading the effort. "We, the people of Los Angeles, need a parking system that helps us care for our families, conduct our daily affairs and run our businesses," Beeber and Vincent explain. "We recognize that parking regulations and enforcement are absolutely necessary to a well-managed city environment. But we are not cows on a dairy farm to be milked whenever the city has trouble making fiscal ends meet. And while the city focuses on rolling out every conceivable means of 'monetizing parking assets' at the expense of its citizens, real world parking problems are being ignored." The proposal would cap parking fines, eliminate confusing signs and reform of the appeals process. All of the city's parking policies must be reviewed, and money raised from drivers should not be diverted into the city's general fund, the activists insist. Jesus Pimentel and David R. Welch were so outraged by the cost of parking tickets that they filed suit Monday in the US District Court for the Central District of California arguing the citations violate the Eighth Amendment protection against excessive fines. Last May, Pimentel parked in downtown Los Angeles and received a $63 ticket for parking at an expired meter. When he refused to pay he was hit with a total of $175 in fees. Welch had the same experience in February 2013, and both eventually paid the fine. "The parking penalties set by the schedule greatly exceed the amounts for penalties established by the city in prior years for the same parking violations, reflecting an approximate 50 percent increase," Pimentel and Welch's attorney, Donald G. Norris, wrote. "On information and belief, the city was in substantial part improperly motivated to increase the amount of parking penalties on the schedule in order to increase its revenues and improve its fiscal situation in response the fallout from the 2008 to 2009 economic crisis." The suit points out that a parking ticket amounts to a full day's pre-tax earnings for someone who makes the minimum wage. The penalty is 130 times the amount of money it would cost to feed the meter for a few extra minutes of time, which the plaintiffs argue is obviously excessive. The suit seeks a declaration that the fine amounts are unconstitutional.


Thursday, February 27, 2014
Italy: Top Cop Arrested For Speed Camera Bribery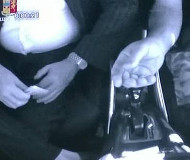 Prosecutors on Tuesday charged Andrea Saroldi, the police commander in the small seaside town of Spotorno, Italy, with extortion, bribery and fraud related to speed camera contracts. At a press conference Wednesday, Savona assistant prosecutor Daniela Pischetola announced the results of an investigation dubbed "Hot Velox" (autovelox is the Italian word for speed camera). According to Pischetola, Saroldi collected kickbacks from photo ticketing contractor, Igea srl in return for his permission to install the cameras. Igea's Claudio Ghizzoni has also been charged. According to the indictment, Saroldi also used threats of violence to extort money from Arcadia, a company that maintains road signs in the town. The owner of the sign company tipped off prosecutors last July after paying Saroldi 24,000 euros (US $33,000). The Italian National Police (Polizia di Stato) set up a sting operation and captured on video money changing hands in Saroldi's car. Saroldi would then take his squad car and spend his red light camera money in the red light district. He also used the funds to pay off gambling debts. Saroldi is currently under house arrest. Italian prosecutors have not hesitated to charge police chiefs and municipal officials with speed camera fraud. In 2012, the top cop in Pistoia was arrested for rigging the bid for a photo ticketing contract. In 2011, there were four raids that saw two police officers arrested on charges of soliciting bribes from people falsely accused of speeding. Seven were arrested in Frosinone for rigging speed camera contracts. The Guardia di Finanza announced five indictments in Brescia. A judge ruled that a group of 15 mayors, cops, speed camera company employees should stand trial on fraud charges. In August 2009, speed cameras were shrouded in black plastic as up to 200 officials faced charges in Caserta. The problems are not limited to Italy, as the mayor of St. Peters, Missouri spent a year in prison for soliciting a bribe from Redflex, the Australian red light camera company. According to former Redflex Executive Vice President Aaron Rosenberg, such conduct was expected at Redflex, which used "lavish gifts and bribes" to convince government officials to buy more speed cameras. Rosenberg is cooperating in a federal investigation into the corruption charges that first came to light in Chicago, Illinois.


Wednesday, February 26, 2014
Missouri Supreme Court Rejects Red Light Camera Companies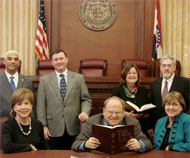 Red light camera companies could be in trouble in Missouri. The state Supreme Court on Tuesday declined to accept any of the desperate appeals filed by local municipalities and photo enforcement vendor American Traffic Solutions (ATS). As a result, three Court of Appeals cases that went against the use of red light cameras become final and are the law of the land. The state House of Representatives will vote Wednesday on House Bill 1557 which would undo the rulings and rescue the camera companies from the cases brought by attorney Ryan A. Keane, Damon v. Kansas City (view decision), Unverferth v. Florissant (view decision) and Ballard v. Creve Coeur (view decision). "Today's decision means that any red light camera or speed camera ordinance that circumvents the state law requiring points be assessed for moving violations is void and unenforceable," Keane told TheNewspaper. "This is important because it confirms common sense. If camera systems are designed to promote public safety -- rather than generating revenue --, then cities cannot circumvent a public safety law. Moreover, because moving violation points must be assigned to a driver's license, city prosecutors must prove beyond a reasonable doubt who was actually driving, which they cannot do using American Traffic Solutions' camera system. Hopefully, the practical effect of today's decision will be that local governments and ATS can no longer operate their camera systems like an ATM machine." It is still possible that the high court may take up one of the two remaining appeals on the issue of photo ticketing, but that would not happen until March 25 at the earliest. Until then, a city ordinance that allows photo tickets to be issued without license points "unequivocally conflicts with the state statute and is therefore void." Aldermen in St. Peters voted last November to revise the city's red light camera ordinance to issue points with red light camera tickets, though the town is one of the few in Missouri to use Redflex. In 2006, the mayor of St. Peters was convicted of soliciting a bribe from Redflex and spent a little over a year in prison. State Representative Dave Hinson (R-St. Clair), a recipient of campaign cash from American Traffic Solutions, proposed House Bill 1557 to rescue the company from its legal troubles (view bill). The proposal would authorize the use of cameras without the issuance of license points. Floor amendments have been filed to divert ten percent of red light camera ticket profit to driver education courses. Matt Hay, former city councilman for the city of Arnold and creator of the WrongOnRed website, believes photo ticketing supporters will have a tough time even passing a bill into law and surviving the court challenges. "Unless they can pull a Hail Mary and get something through the Senate to give them cover, it looks like the cameras will be sitting there useless for many months," Hay told TheNewspaper. "Many of the contracts specify these are no points violations, so they would have to be rewritten as well, in the face of tremendous opposition. It is a poison pill of sorts at the moment, and will be interesting to see which leaders are willing to risk the wrath of their constituents to serve their ATS and Redflex patrons, and who will cut their loses, and just dispense with their now voided contract and systems altogether."


Tuesday, February 25, 2014
Virginia Moves To Limit Red Light Camera Cash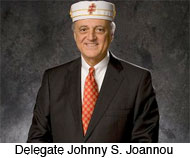 Lawmakers in Virginia are moving quickly to remove the profit motive from the use of photo enforcement. On Monday, the state Senate Courts of Justice Committee voted 14-1 in favor of legislation that slashes the price of a red light camera ticket from $50 to $20. The measure cleared the House of Delegates unanimously earlier this month. State Delegate Johnny S. Joannou (D-Norfolk) introduced the measure initially intending to cut the amount of the fine in half, but House committee members decided to trim an extra $5 profit from every fine, leaving it at $20. Joannou's bill also gives vehicle owners who receive a ticket the added due process of a circuit court challenge. If the owner loses a trial in district court, the bill offers the option of an appeal in circuit court. In Virginia, all traffic tickets for moving violations can be appealed to the circuit court at no extra cost in a trial de novo, which means the case is heard again as if the first trial had never happened. The state's circuit courts recognize the right of trial by jury, even for traffic offenses. Without the change in statute, the circuit court would not hear a red light camera case because the court only has jurisdiction over civil cases where the amount involved is more than $50. Delegate L. Scott Lingamfelter (R-Woodbridge), a long-time opponent of red light cameras, last week saw his bill to mandate that the yellow signal duration at red light camera intersections be a minimum of three seconds pass without opposition in both the state House and Senate. The measure would make no difference whatsoever, since this is already required by the federal Manual on Uniform Traffic Control Devices, which is binding on all states. In addition, the Virginia Department of Transportation (VDOT) has already insisted that an extra 0.5 seconds of yellow be added at most intersections (view VDOT memo). If Joannou's measure clears the full state Senate, it will head to the desk of newly sworn in Governor Terry McAuliffe (D). That would be the first time McAuliffe has addressed the issue of photo enforcement head on. His predecessor, former Governor Bob McDonnell, was an enthusiastic supporter of automated ticketing machines who signed camera industry bills that repealed requirements that localities only install cameras at intersections where they could show a genuine safety need. Red light cameras have been controversial in Virginia. After being legal for a decade, the state asked VDOT to verify whether the devices improved safety or not. In 2007, a state report showed rear end collisions, angle accidents and injuries all increased where cameras were used (view study). A copy of Joannou's bill is available in a 60k PDF file at the source link below.
Source:

House Bill 1040 (Virginia General Assembly, 2/24/2014)




This is a journal covering motoring issues from around the world from a political perspective.


search tips | about us | site map

Subscribe
Receive free email or RSS news updates.

Key Documents
Documents, studies and memos about camera enforcement.

Archives
View previous news items.

Feedback
Contact the editors.

View Main Topics:

Popular Stories

-Missouri Cop Harassment Video

-Photo Enforcement Bans

-Most Popular Stories

Popular Studies

-Red Light Camera Study Roundup

-2007 Virginia DOT: Cameras Increase Injury Accidents

-2005 Washington Post: Accidents Doubled with Cameras

-2004 North Carolina: Red Light Camera Study (Burkey-Obeng)

-Majority Leader Armey Red Light Camera Report

-Longer Yellows Reduce Crashes (TX Transportation Institute)

-HOV/Carpool Lanes Cause Accidents




Since 1999, Washington, D.C. cameras have issued 4,500,103 tickets worth $312 million (as of 5/30/10).