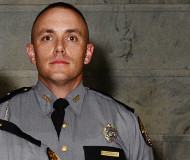 10/12/2018

Facebook Traffic Stop Complaint Triggers Kentucky Cops
Lawsuit charges Kentucky state troopers with assault, puppy-kicking over a Facebook complaint about a traffic stop.


Furious Kentucky state troopers took the law into their own hands after a motorist complained on Facebook about a traffic stop, according to a federal lawsuit filed last month. On September 16, 2017, Trooper Scott Townsley stopped motorist David Allen Gabbard and searched his vehicle. Nothing illegal was found, so Gabbard shared his frustration on social media after returning home. "Just love being pulled over for no reason lmao," Gabbard wrote on his personal Facebook page, adding a "police ...




---