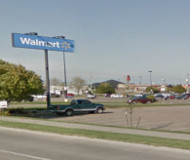 6/30/2015

Nebraska Supreme Court Declares Walmart Parking Lot A Public Highway
Nebraska high court says license suspension means no driving, even on private roads and parking lots.


Nebraska's traffic laws can apply to private property, such as a Walmart parking lot, according to a ruling handed down Friday by the state's highest court. Justices were considering the case of Benjamin Frederick who was caught on December 31, 2012 driving in a superstore parking lot in Kearney while his license was revoked. An officer who had been called to the Walmart location recognized Frederick and followed his car as it made its way through the aisles of the parking lot. Eventually, Fr ...




---