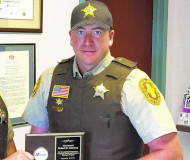 3/27/2020

Federal Judge Reaffirms Right To Flip Off Virginia Cops
Federal judge overturns jury verdict that had exonerated a cop enraged by a passenger who flipped him off.


Drivers and their passengers have a constitutional right to express their feelings to police officers with an extended middle finger, according to Chief US District Judge Michael F. Urbanski. Brian H. Clark, the irreverent passenger who flipped off a Virginia sheriff's deputy, won a moral victory on Tuesday as the court overturned a jury verdict that had sided with the police officer. On July 25, 2016, Clark was waiting outside the Patrick County courthouse while his sister and a friend filed ...




---