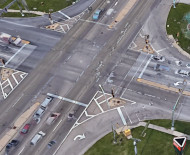 9/18/2018

Illinois Appellate Court Declares Wide Left Turns Legal
Illinois Appellate Court says police cannot stop motorists for making wide left-hand turns.


Police officers often enforce best practice traffic rules thinking they are upholding the law. The Illinois Appellate Court on Friday ruled that when Bloomington Police Officer Manuel Hernandez stopped motorist Donald P. Walker for making a wide left-hand turn on July 20, 2017, the policeman was the one violating the law. Officer Hernandez had been following Walker on Hershey Road as he stopped for a red light, waiting in the dedicated left-hand turn lane. Once the light turned green, Walker ...




---