1/22/2007
Red Light Camera Salesman Convicted of Fraud
A top salesman for Australian red light camera vendor Redflex is convicted of $1.2 million fraud.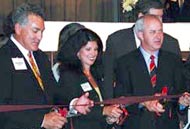 A top red light camera salesman was convicted in South Carolina of $1.2 million in fraud on Thursday. A jury found Jay Morris Specter, 51, guilty of five counts of forgery carrying a maximum penalties that include a $250,000 fine and ten years imprisonment.

Australian camera vendor Redflex had hired Specter in 2005 to make sales presentations to city councils around the country. Specter made broad claims about the benefits of photo enforcement in cities such as Woodruff, South Carolina; Chevy Chase, Maryland; and Boca Raton, Florida. Most recently he had finalized a deal with Jefferson Parish, Louisiana while under felony indictment since June. Jefferson Parish officials were unaware of the indictment and plan to proceed with the contract regardless. Redflex also disclaimed knowledge of Specter's felonies.

Before joining Redflex, Specter worked for camera vendor ATS to secure contracts with several cities in Missouri. ATS fired Specter in September 2005.

Specter's latest legal troubles began in 2001 while he was CEO of Insurall Casualty Group. In 2001, he borrowed $5 million, an amount to be paid in installments, for the construction of a call center. Each check was made payable to Insurall and a contractor hired to perform work on the project. Specter removed the contractor's names from eleven checks, and he deposited $1.2 million that was supposed to be paid to workers into the Insurall account, which he controlled. Insurall went out of business in February 2003.

This is not the first time a photo enforcement company has been tainted with scandal. In October, the mayor of Saint Peters, Missouri pleaded guilty to soliciting a bribe from Redflex in return for approving a red light camera ordinance. In that case, the company cooperated with authorities to pay the bribe and catch the mayor. Redflex competitor ACS is on trial in Edmonton, Canada for bribing two police officers to secure approval of a $90 million no-bid photo ticketing contract. In November, the CEO and CFO of ACS stepped down after admitting to $51 million in stock options fraud.