6/6/2007
Firefighters Warn of Toll Road Dangers
Toll roads are causing rear end collisions with multiple fatalities.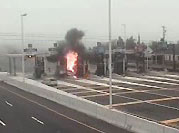 As states scramble to sell freeways to foreign companies for conversion into pay roads, first responders issued a reminder this week of the extreme hazard presented by tolling. Fire chiefs in Bristol and Elkhart, Indiana complained that their firefighters and equipment are being tied up by frequent accidents on the Indiana Toll Road which, mile for mile, is the state's single most dangerous stretch of road. The toll road authority has refused to pay the bill for the hours spent responding to frequent fatal accidents.

"We had another five people who ended up burning to death," Bristol Fire Chief Bill Dumpster told WSBT-TV. "We had another one where we had three dead."

The National Transportation Safety Board (NTSB) explained the danger of mainline toll booths in an April 2006 report. It concluded that backups caused by a toll booth contributed to a major accident in Illinois.

"The board noted that traditional toll plazas... interrupt the flow of high-speed traffic and tend to increase the incidence of rear-end collisions," the NTSB stated.

Although insurance industry reports tend to downplay the serious nature of rear end collisions, the single incident on Interstate 90 killed eight people and injured twelve.

Another accident on the Garden State Parkway in New Jersey last month illustrated the danger extends to single-car accidents. A 52-year-old motorist who likely had a seizure behind the wheel crashed into a toll booth at speed. Within seconds, his car was engulfed in a ball of flame. Video of the event appeared on a handful of websites days after the incident. The video spread widely after the New Jersey Turnpike Authority drew attention by threatening to sue anyone hosting the video.