10/9/2007
Plans to Toll Interstate Highway System Expand
Plans to add new tolls to the interstate highway system are moving forward in Maine, Pennsylvania and South Carolina.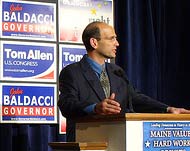 The interstate highway system could turn into a nationwide network of toll roads as plans proceed to add tolls to existing freeways in Maine and Pennsylvania while an entirely new tolled interstate is approved for South Carolina.

Last week, the Pennsylvania Turnpike Commission announced it had awarded a $3 million contract to McCormick Taylor Inc for the installation of open road tolling booths on Interstate 80. The system would use RFID sensors and cameras to track and record every car that uses the road for billing purposes. McCormick Taylor's executives are no strangers to the Pennsylvania officials responsible for the tolling plan. The company has poured tens of thousands of dollars in campaign donations to both political parties in the state. Since 2005, CEO Thomas A. Caramanico has handed Governor Edward G. Rendell (D) checks totaling $41,500 with other executives kicking in an extra $4500. Caramanico also gave then-House Speaker John M. Perzel (R) $33,500. Although pending federal legislation could derail the Interstate 80 tolling effort, but Rendell's administration is proceeding as if tolls are inevitable.

In Maine, state lawmakers put forward a plan to add tolls to sections of Interstates 95 and 295 that are currently free for the use of all motorists. After the legislature's Joint Standing Committee on Transportation overwhelmingly approved a $40,000 preliminary study to kick off the tolling efforts last month, Governor John E. Baldacci (D) vowed to fight the move.

"I oppose the idea of adding tolls to Maine's existing Interstate highway system, and I can assure you it will not happen during my term in office," Baldacci said in a statement. "Before they start talking about tolls on the Interstate, we need to cut the administrative costs of operating a separate Turnpike Authority and Department of Transportation. We must find every possible efficiency in the way we manage our transportation network, and we must make sure that our current resources are being used effectively."

The plan to add tolls to existing interstate freeways in Maine would require federal approval, which the US Department of Transportation has been willing to grant.

In South Carolina, the Federal Highway Administration approved the first new interstate that would be built as a toll road since the interstate highway system itself was authorized in 1956. The Interstate 73 plan would construct a new 80-mile toll road connecting I-73/I-74 south of Rockingham, North Carolina, to the Myrtle Beach area on the South Carolina coast.

"The I-73 project is a great example of leaders at the state and local level using tolling as a solution to traffic problems," US Transportation Secretary Mary E. Peters said.

The Texas Department of Transportation (TxDOT) has also been lobbying Congress for legislation that would allow the agency to toll existing interstate freeways. Resistance from the public and lawmakers cast doubt on whether TxDOT's effort can succeed.