8/13/2008
California, New Jersey Toll Plans Killed
Public opposition thwarts San Francisco, California congestion tax along with plans to lease New Jersey roads to foreign investors.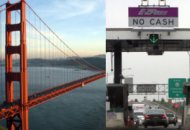 Plans to impose a congestion tax in a major California city and to sell New Jersey highways to foreign investors have been dropped in response to widespread criticism. After failing in an attempt to lobby New York lawmakers to create a congestion charging zone in Manhattan using $354 million in taxpayer dollars as an incentive, federal officials turned their sights on San Francisco. Mayor Mayor Gavin Newsom (D) was told he could have nearly half of the New York money, $160 million, if agreed to levy a $7 "value pricing" tax on Marin County commuters using the Golden Gate Bridge. Newsom promoted the plan heavily.

Golden Gate Bridge District directors refused to go along, according to the San Francisco Chronicle newspaper, and on Friday the San Francisco Transportation Authority voted down the unpopular plan. As an alternative, the authority agreed to take money from the federal gas tax to buy new parking meters that will be used to charge significantly higher rates for parking based on the time of day.

Similarly, Governor Jon S. Corzine (D) is being forced to rethink his plan to "monetize" New Jersey toll roads as a means of paying down the state's $3 billion budget deficit, the third largest in the country. Under the plan, New Jersey would have received a massive up-front payment to cover current spending needs while future generations would pay off the amount through increasingly higher tolls imposed up until the year 2083.

The idea of giving the new road owners a license to boost rates generated significant opposition. In January, for example, a Corzine staffer had a former city mayor arrested for peacefully protesting outside of a public meeting on the proposal. Legislators were unconvinced by the need to sell infrastructure.

"Not only did it not have 21 or 41 votes, it did not have one sponsor," state Treasurer David Rousseau said yesterday, as reported by Gannett News. "It's not a viable option anymore. It's dead. It's done. It's over."

Speaking before the Council of State Governments Eastern Regional Conference, Rousseau explained that the state will need to come up with another means of raising taxes and tolls.