11/16/2009
Michigan Lawmakers Consider Repeal of Driver Responsibility Tax
Michigan lawmakers begin consideration of bill to eliminate speeding ticket tax.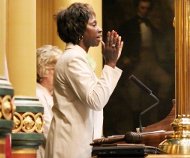 The Judiciary Committee of the Michigan House of Representatives is expected this week to consider repealing the state's Driver Responsibility Act (DRA). Since 2004, Michigan has used this law to impose a tax of $300 to $2000 on certain driving offenses, plus an annual tax of $100 to $500 a year for anyone with more than seven points on his license. State Representative Bettie Cook Scott (D-Detroit) introduced a bill that would repeal the this law by the end of the year.

"The DRA is not a law to promote justice and safety on the roads," Scott testified in an earlier hearing on her bill. "It's a law that generates money... If the industrial and manufacturing revenues to the state have dropped, the state should not shift the loss of revenue on to its lowest wage earners. It must focus on attracting and creating new business that can create revenue."

Last year, the tax generated $114.2 million in revenue for the state. Since 2004, drivers have been billed a total of $800 million, but only $400 million has actually been collected as thousands have been unable to make the steep payments required.

"If you were forced to choose between keeping your lights on or paying for DRA fees, which one would you choose?" Scott asked. "So what happens? The state charges them extra money by charging two years of DRA fees. Because they do not have extra money and have not paid fees they have their driver's license suspended or allow their auto insurance to lapse."

According to state data, the number of license suspensions and unlicensed drivers has skyrocketed since the law took effect. There were 39,465 assessments for driving on a suspended license in 2004, a figure which jumped 42 percent to 56,183 in 2008. The number of those caught driving without insurance jumped from 2063 to 89,202 in the same period.

Under House Bill 4098, drivers with payments due before the end of the year would have their tax cut in half. The state of Virginia last year eliminated its short-lived "abuser fee" program in response to vocal public opposition.

A copy of the bill is available in a 35k PDF file at the source link below.