2/17/2010
Arizona: City Dumps Money Losing Traffic Cameras
Avondale, Arizona cancels photo enforcement after it failed to generate accident reduction or profit.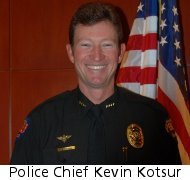 Avondale, Arizona last week decided to terminate its contract with American Traffic Solutions (ATS) for the operation of red light cameras and speed cameras. The city council made its decision primarily on financial grounds after the program failed to deliver on its promise of enhanced safety and substantial profit. With Avondale facing a $3.8 million budget deficit, officials decided the cameras had to go.

"The largest reduction in budgeted appropriations comes from the camera traffic enforcement program," Avondale Finance Director Kevin Artz wrote in a February 8 memo to the council. "The police department has assessed the effectiveness of the program and determined that potentially the program costs outweigh the benefits. With the total costs of the program exceeding the revenue and little change in accident rate, staff recommends that council consider eliminating or suspending the program."

The city allowed ATS to deploy two red light cameras and one mobile speed camera van. Over the past two years, ATS issued 6326 photo citations, with the number of tickets issued down 46 percent in 2009. While some cities would trumpet this reduction as evidence of the benefit of camera use, Avondale provided a different explanation.

"In June 2009 the decision was made to discontinue photo enforcement at intersections for failing to stop turning right on a red light," Police Chief Kevin Kotsur wrote. "This was based on a review of the previous year's accident rate that revealed there were no traffic accidents caused by a vehicle failing to stop on a red light turning right at an intersection... This decision appears to account for the majority of this decrease."

Since the economic recession took hold in 2007, traffic volumes have dropped nationwide. As a result, traffic fatalities have hit all-time lows. Since the beginning of the recession, fatal crashes have dropped 14.7 percent across the country. The half-mile radius surrounding Avondale's camera locations only saw a 7 percent drop in accidents. Areas farther from the cameras experienced a more significant drop in the number of crashes.

The city budget did estimate that cameras would generate $318,610 in net revenue for the city, but Kotsur noted that indirect costs associated with the program would mean the city would wind up losing $80,000. Avondale's contract was set to expire on September 19, 2010, but an early termination clause allowed cancellation without penalty to the city.

A copy of the city council memo is available in a 260k PDF file at the source link below.