1/14/2011
Opinion: Washington State Reports on Anti-Car Agenda
The state of Washington enacted a law requiring cutting the use of internal combustion engines in half by 2050.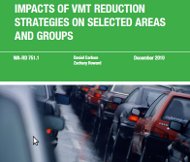 In 2008, the Washington state legislature adopted one of the nation's most specific anti-automobile laws. The statute sets arbitrary milestones so that state government action might be taken to coerce at least one-half of residents out of their cars by mid-century. Last month, the Washington state Department of Transportation (WSDOT) issued a report discussing the various tools available to state officials to meet these goals. The tools aim to force drivers to take the bus, walk or use a bicycle. They also seek to encourage carpooling and discourage trips through tolls, taxes and land ownership restrictions.

The law's goals are measured in terms of reductions in the total amount of miles the state's residents drive, called Vehicle Miles Traveled or VMT. For activists, VMT serves as a proxy for reduction in emissions of carbon dioxide, a gas essential to life on this planet that is emitted by humans and animals in addition to automobiles. Cutting down on car use, proponents argue, would make temperatures colder and increase precipitation in mountain ranges.

"A 2009 report from the University of Washington estimated that the state will experience an overall temperature increase of between 0.2 and 1.0 Celsius per decade over the next century," the WSDOT study stated, explaining the purported effects of global warming under current public policy. "Models that estimate regional effects suggest substantial decreases in winter and spring precipitation in the Cascade and Olympic mountain ranges, combined with a significant decrease in snowpack."

Nationally, VMT has proved to correlate directly with economic activity and growth. The nation's travel peaked in 2007 at 3.029 trillion miles and fell 56 billion miles the following year as the recession hit. VMT remains under the 3 trillion mark, according to the latest FHWA statistics. A reduction in economic activity may actually be the true goal of state policy.

"The U.S. Global Change Research Program cites the Northwest's rapid development as one of the major causes of environmental stresses; ironically, the very natural beauty that attracts new residents may be diminished by increasing human activity," the report explained.

Limiting development and economic activity proved to be a primary method of reducing VMT. Because of the differences between rural and urban areas and the effect of VMT taxes and tolls on the poor, however, the study's authors concluded that no single strategy would work. Instead, a combination of methods would have to be implemented to meet the legislature's targets.

A copy of the study is available in a 600k PDF file at the source link below.