9/3/2012
California, Tennessee: More Cities Terminate Traffic Cameras
Corona, California and Red Bank, Tennessee will both vote on ending photo ticketing contracts.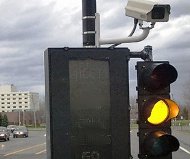 Photo enforcement programs are being dropped at an increasing rate. On Tuesday, city leaders in Corona, California and Red Bank, Tennessee will vote to send their automated ticketing machine vendors packing. Just two years ago, American Traffic Solutions (ATS) won a major contract extension in Red Bank as the city rushed to avoid the possibility that the state legislature could impose limitations on automated ticketing. Red Bank's voters, however, have since put in place commissioners opposed to the use of traffic cameras, so city staff are now asking the board of commissioners to approve sending a formal termination notice to ATS.

Corona has already notified its vendor, Redflex Traffic Systems of Australia, that it is no longer interested in having red light cameras. In a region hit hard by the economic downturn, it is hard for municipal leaders to justify slapping vehicle owners with a $500 citation, especially as the city's net share of that amount is a little over $100. The city council's vote Tuesday will make the termination official.

"The city of Corona has decided not to exercise its right to a 2nd renewal term," Corona City Manager Bradly L. Robbins wrote in an August 27 letter to Redflex. "We understand that the agreement will be terminated as of 12:01am on November 5, 2012."

A council majority on August 22 gave Robbins the go ahead to provide Redflex with the sixty days' notice required under the terms of the contract. Corona entered a three-year deal with Redflex in 2008 that automatically extended by one year in 2011. Cameras at four intersections issued 10,626 tickets over the past 12 months worth nearly $5 million in revenue, but after Riverside County, the state and Redflex take their share, little is left for the city. Terminating the program in November, for example, would yield the city a net profit of $225,000.

In 2009, then-Mayor Steve Nolan said he "made a mistake" in voting for the red light camera program, saying the near $500 fine was too high. Nolan attempted to set up a system of administrative red light camera citations that would have been less expensive for motorists by cutting the state and county out of the process. As state law established procedures and the basic amount of the red light camera fine, the administrative ticket idea was dropped. The current mayor, Eugene Montanez, supports the cameras.

Recent California cities to drop their red light camera programs include Emeryville, Yuba City, Glendale, Gardena, Grand Terrace, Loma Linda and Whittier, Los Angeles, Moreno Valley, Pasadena, Rocklin, San Carlos, Union City, Yucaipa and Costa Mesa. Berkeley, Burlingame, Cupertino, Compton, El Monte, Fairfield, Fresno, Fullerton, Indian Wells, Irvine, Maywood, Montclair, Paramount, Rancho Cucamonga, Redlands, Roseville, San Jose (photo radar), Santa Fe Springs, Santa Maria, Santa Rosa, and Upland have also canceled their contracts.