5/21/2013
Tolling Interstate 95 In Virginia, North Carolina Hits Roadblock
The North Carolina House and a Virginia court are getting in the way of plans to convert Interstate 95 into a toll road.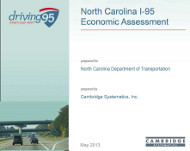 Plans to convert Interstate 95 into a toll road in North Carolina and Virginia have run into a roadblock. On Tuesday, the North Carolina House of Representatives will vote on final passage of a measure that would prohibit the state from installing toll booths on existing general purpose lanes. The measure passed on a preliminary vote 113-0 last Thursday.

If enacted, House Bill 267 would grant tolling authority only if the state "maintains at all times at least the same number of general purpose non-toll lanes on the affected segment that were available prior to imposition of any tolls." The revenue collected could not be diverted to fund other, unrelated projects. Just last week, the North Carolina Department of Transportation (NCDOT) issued a report on how much revenue would be generated by collecting tolls that would run $19.20 for a passenger car making a statewide journey.

North Carolina already imposes a 37.5 cents per gallon tax on gasoline that automatically rises with the wholesale price of gasoline. On top of this, drivers on I-95 would be hit with between $250 million and $928 million in annual tolls, according to the NCDOT analysis. One of the plans still on the table is called "local mitigation" where drivers from out-of-state would be charged a discriminatory 50 percent premium compared to North Carolina residents in the local area. The No Tolls I-95 Coalition opposes the tolling scheme as bad for commerce.

"I-95 is the primary transportation artery not only for North Carolina destinations but also for overnight stays and travelers will divert to other roads to avoid tolls," Jerry Dimeo, President of First Carolina Management, said on behalf of the coalition. "This [would] have a significant negative impact for many counties and businesses in the state that depend on tourism for their livelihood as well as make us far less competitive with other states."

The tolling plans of Virginia Governor Robert F. McDonnell (R) were similarly undermined by a vote of the legislature in February.

"That no tolls shall be imposed or collected on Interstate 95 south of Fredericksburg pursuant to the Interstate System Reconstruction and Rehabilitation Pilot Program without the prior approval of the General Assembly," the law enacted last month stated.

Adding to the difficulty of tolling, Portsmouth Circuit Judge James A. Cales Jr ruled on May 1 that the use of a state transportation agency to impose tolls without a vote of the General Assembly represents an unconstitutional delegation of the power to tax. The ruling directly shuts down tolling plans for the Elizabeth River Crossings while raising questions about the legality of Governor McDonnell's tolling plans for other roads throughout the state.

Should the judiciary delay the effort beyond the November election, the leading candidate to take the governor's mansion in Richmond, current Attorney General Ken Cuccinelli (R), prefers the legislative model just adopted by the North Carolina House, only allowing tolls for new capacity.

"I favor a user fee toll road system for new highways as a transportation policy -- that's a pretty conservative approach," Cuccinelli told Breitbart News in February. "I explain why it makes Virginia better to go this way instead of another way."

Cuccinelli also said he disagreed with Governor McDonnell's approach of hiking fees on the Dulles Toll Road to fund a $6 billion Metrorail train to Dulles International Airport.

A copy of the North Carolina legislation is available in a 90k PDF file at the source link below.