6/24/2013
The Netherlands: Government Investigates Inaccurate Photo Tickets
Dutch government officials investigate hundreds of inaccurate tickets issued by average speed cameras.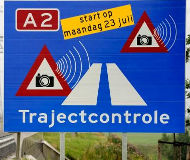 Innocent motorists are getting tickets in The Netherlands from average speed cameras that are miscalculating the speed of some vehicles by as much as 18 MPH. Last Monday, National Ombudsman Alex Brenninkmeijer announced his office had opened an official investigation into the matter.

"The public prosecutor is aware of the problem, but drivers of campers still need to sound the alarm if they get wrongly fined," Brenninkmeijer's office said in a statement.

The National Ombudsman is an independent agency that helps individuals deal with problems with the government. The office set up a webpage for drivers to report incorrect tickets to help provide evidence of the scope of the problem. An investigation by RTL News revealed that as many as 300 complaints are received each year from the drivers of RVs, vans and cars with bicycles or trailers on the back who received bogus citations in the mail.

Instead of using sensors, lasers or radar, average speed cameras photograph vehicles as they pass between two separate camera stations that can be anything from a hundred yards to several miles apart. The device bases its estimate of vehicle speed on the amount of time it takes for photographed vehicles to pass between both locations. In this case, the problem is being reported from the cameras on the A2, A12 and A58.

Several members of parliament called for the system to be shut down until the problem is resolved, arguing there are many who just pay the fines of around 220 euros (US $290) without knowing whether they are legitimate. Fredrik Teeven, State Secretary for Security and Justice, rejected that proposal outright on Tuesday, saying a "software update" would take care of the problem.

Average speed camera technology has proved to be prone to error. In Derbyshire, England an average speed camera created inaccurate readings because there was a shortcut available to drivers that would reduce the distance of the journey, producing an incorrect, higher speed reading. In Australia, the devices produced incorrect readings optical character recognition software confused the license plates of buses that used the road, leading to a false speeding allegation.