2/10/2022
Thousands Of Speed Camera Ticket Refunds Issued To Innocent Drivers
Tens of thousands of erroneously issued speed and red light camera tickets resulted in refunds last few weeks in Virginia, Pennsylvania, France and New Zealand.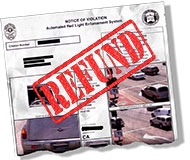 By Richard Diamond

Drivers in Europe and the United States have been receiving citations from speed cameras even though they did not knowingly violate any laws. As a result, governments in Pennsylvania, Virginia, France and New Zealand have been forced to issue tens of thousands of refunds over the past few weeks.

The city of Alexandria, Virginia, last week admitted the red light camera at the intersection of Duke Street and South Walker Street had illegally issued fines to 4709 drivers over the course of three-and-a-half years. Between January 26, 2016, and October 4, 2019, cars that entered the intersection an alleged 0.5 seconds after the light turned red received tickets in the mail from the city's private contractor, Verra Mobility. Virginia state law mandates a half-second grace period that explicitly prohibits issuance of red light camera tickets in the first 0.5 seconds of the red phase at an intersection. Studies show accidents are essentially non-existent during the first seconds a light is red because cross traffic is held during an all-red phase (view report).

In Pennsylvania, state representatives Frank Farry (R-Bucks County) and K.C. Tomlinson (R-Bucks County) announced on January 27 that the Pennsylvania Department of Transportation (PennDOT) erroneously issued photo radar tickets on US Route 1. An estimated 5000 tickets, worth between $75 and $150 each, were issued based on an incorrectly set speed limit in an unsigned work zone, according to the agency. Drivers who were not actually speeding received citations and complained to the lawmakers, who ordered an investigation into the matter. PennDOT's cameras, owned and operated by Verra Mobility (formerly Redflex), have generated more than $50 million since they were introduced in March 2020.

In France, the speed camera installed on the RD619 between Marnay-sur-Seine and Nogent-sur-Seine has been ticketing motorists who were not speeding since January 11. According to radars-auto.com, the departmental council in Aube made the decision at the beginning of the year to raise the speed limit on secondary roads to 90 km/h (56 MPH), including all but a small stretch of the RD619. Despite this, the device in question continued to issue tickets to vehicles flashed at 80 km/h (50 MPH). CACIR, the Automated Traffic Offenses Center, is expected to launch an investigation.

Some 8572 drivers in South Island, New Zealand, will soon be receiving a refund. The city of Invercargill admitted last month that the speed camera on Otatara Road had been enforcing the wrong speed limit from November 4, 2021 to January 20, 2022. The device was ticketing cars traveling 70km/h (43 MPH) when the legal speed limit was 100km/h (62 MPH). The city council has since formally lowered the speed limit to 70 km/h to resume ticketing operations. Vigilantes responded to the news by shooting the speed camera last week.