8/7/2020
Toronto, Canada Sends Photo Radar Tickets To Innocent Drivers
Toronto, Canada, forced to issue refunds after speed cameras falsely accused 299 motorists.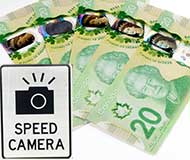 At least 299 innocent motorists received tickets in the mail from the brand new photo radar program in Toronto, Canada. The city last week admitted it had learned of the error after receiving a report from Redflex Traffic Systems, the scandal-plagued Australian vendor in charge of the program.

"To ensure full transparency, the city is making the public aware of one issue that was identified and has been immediately corrected," Toronto officials explained in a statement.

Between July 6 and July 15, Redflex issued 277 tickets after wrongly setting up the camera to enforce a 30km/h (19 MPH) speed limit on Derrydown Road. The actual speed limit on that road is 40km/h (25 MPH). An additional twenty-two bogus tickets were issued to innocent motorists for traveling the wrong way on Elkhorn Drive.

The city conducted no oversight to ensure Redflex was following proper procedures, but it now insists that the system that mails out tickets that cost up to $718 each is operating perfectly. If Redflex keeps up the pace of ticketing seen in the first two weeks of operation, Toronto stands to generate nearly 200,000 tickets per year. The city estimated it would generate $18,740,000 in revenue for 2020, with the Redflex share of the profit over the life of the five-year contract set at $25,397,008.

What happened in Toronto is nothing new. Government reports from around the world have documented inaccuracies in the operation of speed camera systems that result in innocent motorists being falsely accused. Cameras in Baltimore, Maryland, notoriously send "speeding" violations to parked cars, affecting an estimated 25,000 motorists (view report). The inspector general in New Orleans, Louisiana, found $730,000 worth of bogus tickets issued because of a lack of oversight (view report). The government ombudsman in Victoria, Australia, identified 397 cases where wrongly accused motorists did not just receive a ticket, but they also lost their license (view report). In the most expensive mistake yet, a speed camera in Victoria was caught accusing a 1975 Datsun of traveling an impossible speed, triggering the refund of $26 million in tickets.