7/8/2013
California Treasurer Reports On Floundering Toll Road Finances
Failing California toll road needs to restructure by collecting money from motorists for thirteen extra years.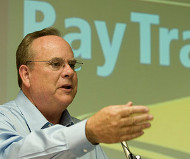 Toll roads remain in vogue among the transportation bureaucracy, but existing projects around the country continue to struggle financially. California's Foothill-Eastern Transportation Corridor Agency, which runs the 241, 261 and 133 toll roads in Orange County, are so depressed that a report released Wednesday by the office of California State Treasurer Bill Lockyer suggests would deliver a blow to the state economy.

"A default on the agency's bonds could have a negative effect on the outlook of investors on the creditworthiness of California in general, potentially making it more difficult and costly for other California issuers to raise funds in the capital markets," the report explained.

The numbers simply do not add up for tolling. In 2011, the toll road agency collected $114 million from motorists in the form of tolls, fees and fines. About 20 percent of the amount collected, $22 million, went to pay for tolling-specific costs, including marketing, customer service, compliance, and the maintenance of tolling equipment. After other expenses, the road had an operating income of $91 million while faced with paying $136 million in principal and interest on debt. The accountants recorded a net debt of $36 million for the year taking into account all revenue sources.

To deal with this, the agency is hoping to take advantage of lower interest rates to reduce debt service payments and will begin refinancing $2.4 billion worth of bonds this week. This means motorists will end up paying more to drive for a much longer period than promised.

"The original creation of the agency foresaw the day that the toll road bonds would be repaid, the tolling ended, and the Foothill and Eastern roads would become part of the state freeway system," the report stated. "It is in the public interest to see that the tolls end as soon as practicable. One negative aspect to the restructuring is that the tolling period will be increased by thirteen years, from 2040 to 2053."

Motorists will also be hit with an average increase in toll rates of three percent per year, even though all three primary credit rating agencies (Fitch Ratings, Moody's and Standard and Poor's) have already knocked the roads for being overpriced compared to their peers. The toll roads also ditched the overly optimistic surveys regarding the number of motorists willing to pay to use them.

"In the past, the agency's previous traffic and revenue studies by Wilbur Smith Associates have significantly over‐estimated revenues, lending to an over‐issuance of debt," the report stated.

The new survey includes a scenario where a recession begins in 2020 and lasts for eight years, comparing it to a best-case scenario of endless growth to give a better idea of the range of revenue fluctuation.

A copy of the report is available in a 600k PDF file at the source link below.